https://issuu.com/voicemedia6/docs/waterford_today_31-07-2019_alt
WATERFORD Suir Valley has unveiled five new storyboards on the Story of Rail at Kilmeaden Station to coincide with the reopening of the Railway for the 2022 season.
The story boards are the final stage of the rebranding of Waterford Suir Valley Railway (WSVR) which began in 2019.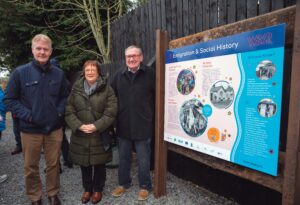 Maria Kyte, manager of WSVR said: "We are very happy to see the final aspect of the rebranding of the WSVR project finished. It has been a pleasure working with rebranding experts Totem. Colin Byrne and his team at Totem have delivered us a brand that reflects what the Waterford Suir Valley Railway is about and we will be proud to use it as we continue to develop the story of rail in the future.
a wonderful, bright addition to Kilmeadan Station
"It was important to us to use railway material, we chose old rail and sleepers from the station to hold the storyboards. It's a wonderful, bright addition to Kilmeadan Station.
"The five storyboards feature stories WSVR wanted to preserve and share: the story of rail, of time, of emigration, sport and social history, of how the railways were built, what they were used for, how they were a mirror to Irish society, and the story of WSVR itself!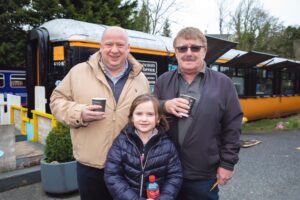 The railway is open for the week of the February mid-term break with train trips departing on the hour from 11am to 2pm Monday to Saturday and 12noon to 3pm on Sunday.
Located 11km from Waterford City, Kilmeadan Station is also a refreshment stop on Waterford Greenway. The Whistlestop Café provides a welcome rest for walkers and cyclist on the Greenway.