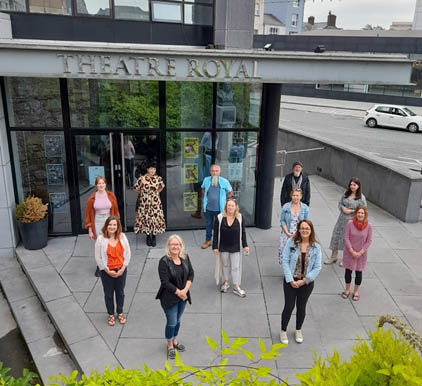 https://issuu.com/voicemedia6/docs/waterford_today_31-07-2019_alt
WITH the pandemic having had a huge impact on the arts community, 11 Waterford-based artists (pictured here) whose work has not been publicly viewed since pre-Covid are thrilled to be able to take part in a group exhibition at Theatre Royal Waterford.
'Into the Spotlight – a celebration of new Waterford art' will feature an eclectic mix of work, produced in Waterford during the pandemic, that includes printmaking, painting, photography, ceramics and multi-media visual art.
The exhibition is taking place in partnership with GOMA, Gallery of Modern Art Waterford.
Theatre Manager Mary Boland said the exhibition was a direct response to exhibits cancelled as a result of Covid-19.
"Theatre Royal is not an art gallery and we're not trying to become an art gallery. But we have empty walls and, after a year and a half of having nowhere to show their work, artists in Waterford need all the support they can get to put a spotlight on their work."
The exhibition runs from 20th August until 10th September.