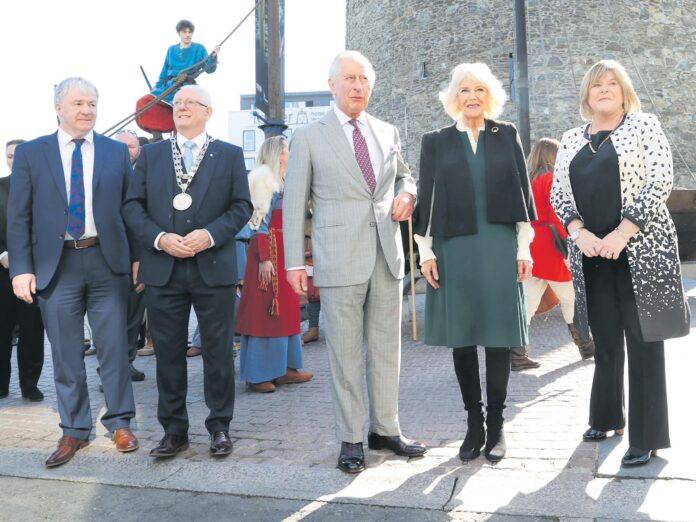 https://issuu.com/voicemedia6/docs/waterford_today_31-07-2019_alt
PRINCE Charles has described his visit to Waterford as "most moving", after meeting refugees who had fled the war in Ukraine and are now living in Waterford.
Speaking at a reception hosted by Waterford City's mayor, Cllr Joe Kelly, the prince began his speech in Irish, and went on to describe the Russian invasion as brutal aggression and praised the Irish government's response to the crisis.
"Such times as we are living through bring into sharp relief the importance of peace and friendship, which history tells us we can too easily take for granted," the prince said.
Under blue skies and warm sunshine, the Prince of Wales and Duchess of Cornwall arrived in Waterford City to a real Déise welcome.
Waterford is a city of promise and hope for the future
The royal couple were greeted upon arrival at Reginald's Tower by Cllr Joe Kelly; Mary Butler, Minster for Older People and Mental Health; Michael Walsh, Chief Executive of Waterford City and County Council ;and Director of Waterford Treasures, Eamonn McEneaney. Prince Charles and his wife Camilla began their walk through Bailey's New Street at the base of Reginald's Tower, Waterford's landmark monument and Ireland's oldest civic building.
A performance by Waterford's Viking Re-enactment group was set against the backdrop of the Viking Longboat, proudly emblazoned with 'Verdrafjordr' (Waterford's Viking derived place name).
"From a Viking town, to a city with a royal charter, to the place where the first Irish tricolour was flown, to the home of a new university and acclaimed as the best place to live in Ireland, Waterford is a city of promise and hope for the future," Prince Charles said.
During the walkabout, Charles and Camilla met business owners and staff outside the shops lining their route. Knitwear designer Christine Murphy, whose brightly coloured outfit was admired by Prince Charles, said the couple were "very welcome" in Waterford.
Waterford-based business specialises in sustainable clothing, said: "He said to me 'I love the colours, is this your work? Are you a designer?'
"I thought he was very personable and giving of his time. I think it's amazing for Waterford, which is Ireland's oldest city, to have a royal come here and acknowledge that, given the history between Britain and Ireland.
in waterford we are reminded so vividly of our ancient connections
Continuing their walkabout, the couple enjoyed a lively performance from award-winning street art company, Spraoi and the musical talents of the Mount Sion Choir.
"To be welcomed so warmly, not least by a Viking re-enactment, is a wonderful blessing and one that will certainly live long in our memory," Prince Charles added.
"It is in places such as Waterford, Ireland's Oldest City, where we are reminded so vividly of our ancient connections and how they have evolved over time toward a modern friendship."