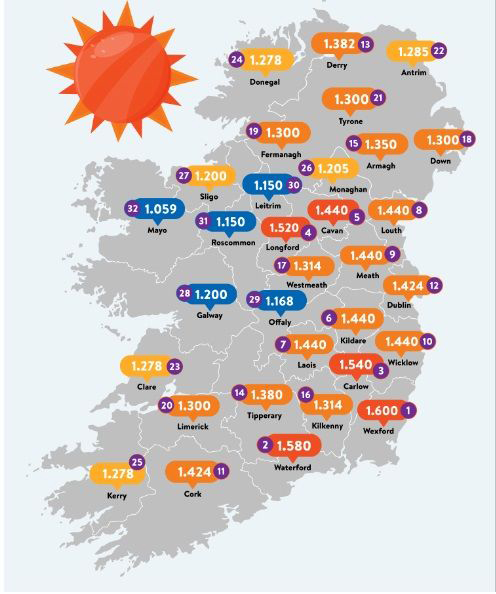 https://issuu.com/voicemedia6/docs/waterford_today_31-07-2019_alt
WATERFORD is the most sunny city in Ireland and the county is second in the sunshine league, being pipped to first place by our sunny neighbour, Wexford.
The Sunny South East really lives up to its name, for Carlow comes third in the league, compiled by Legacy Communications, an independent brand marketing agency. It shows Wexford with 1,600 hours of sunshine in a year, 20 more than Waterford and 40 more than Carlow.
Less predictably, fourth and fith places go to Longford (1,520 hours) and Cavan (1,440 hours).
The research paints a gloomy picture of the west. Mayo gets the least sunshine (1,059 hours), just ahead of Roscommon, Leitrim and Galway.
heading to Waterford will increase your chances of getting some Vitamin D
Waterford enjoys more sunshine than most of our neighbours in Britain. Our 1,580 hours compare with 1,400 for London, Birmingham and Manchester and beat Blackpool (1,567) by a ray or two. Brighton is a long way ahead on 1,900 hours. Glasgow is on a gloomy 1,203 hours.
The Legacy Communications research shows that southern Europe is in a league of its own.
Rome sees an annual 2,500 hours of sunshine, Lisbon 2,799, Madrid 2,910 and Valetta in Malta tops them all with 2,957 hours.
But the good news for Waterford's tourist industry is that, for a sunny staycation, there's no place like home.
"Whether you fancy a relaxing staycation, an al fresco meal or a cheeky outdoor gin/pint, it's clear that heading to Waterford will increase your chances of getting some Vitamin D," says Micheál Brennan, Head of Search at Legacy Communications.