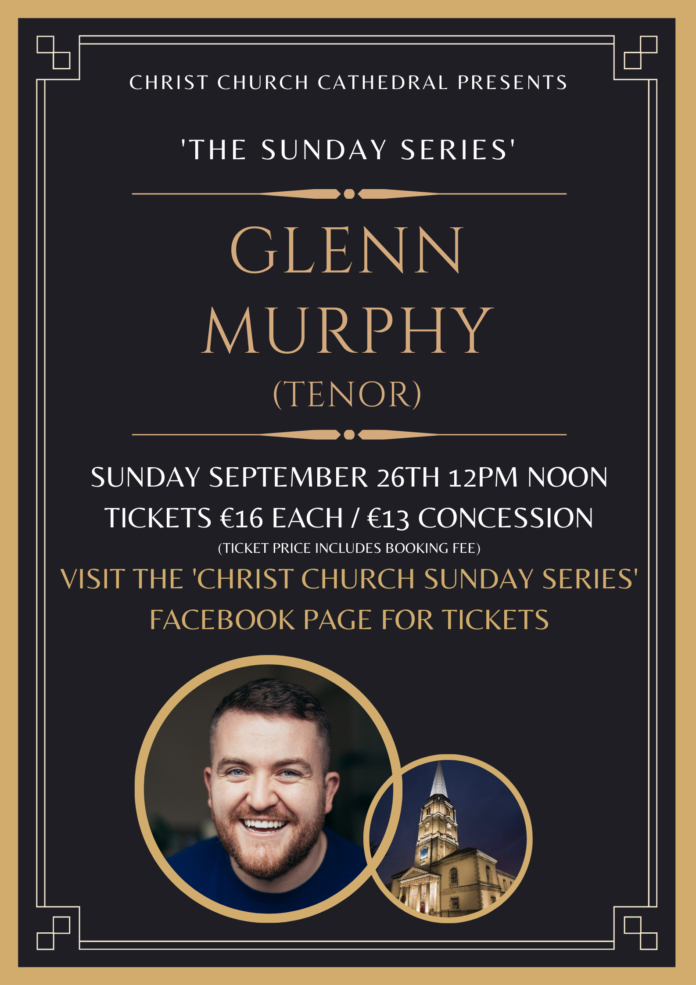 https://issuu.com/voicemedia6/docs/waterford_today_31-07-2019_alt
Christ Church Cathedral Proudly Presents 'The Sunday Series'
Glenn Murphy (Tenor) on Sunday September 26th | Performance Begins At 12pm Noon | Christ Church Cathedral Waterford.
Glenn's vocals are loved all around the Globe but especially here in his hometown of Waterford.
Growing up through local stage schools and production companies, Glenn very quickly established himself as one of Waterford's finest vocalists. Several years later, a very famous video spiralled around the internet of Glenn performing a mash up of Adele songs which then gave Glenn the chance to perform onstage at the 3 Arena at Adele's own concert. Glenn even appeared on the Ellen DeGeneres Show!
Come along to the first instalment of 'The Sunday Series' and indulge yourself with Glenn Murphy's lavish performance. Leave your troubles at the door and join the musical magic with Glenn.
Christ Church Cathedral is an integral part of Waterford city and the Viking Triangle. We intend to showcase it as a fantastic venue to be enjoyed by all!! This series of concerts will cater to a wide variety of tastes, from the very young to the very young at heart and everything in between!! We look forward to your support for the performers and for this historic building. We have a truly exciting line-up of performers, all of whom are bursting to entertain you after a long hiatus.
Please note: Proof of Vaccination of Recovery of COVID-19 will be required for those over the age of 18 upon entry.
Follow us on Facebook and Instagram at 'The Sunday Series at Christ Church' for further
details or phone Ger on (087) 606 8681. Tickets (€16 Adult / €13 Concession) available from 'TicketSource.'