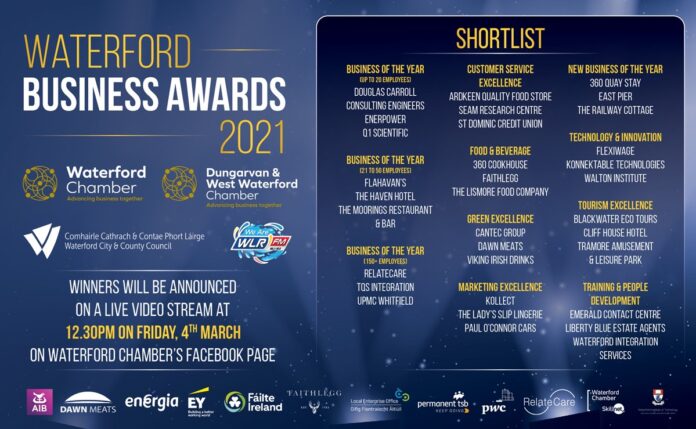 https://issuu.com/voicemedia6/docs/waterford_today_31-07-2019_alt
Waterford's top businesses have been shortlisted for the eighth annual Waterford Business Awards.
Organisers Waterford Chamber have joined forces again with partners WLR and Dungarvan and West Waterford Chamber for the gala awards ceremony, which will take place virtually via live stream on Friday, March 4th. Waterford Chamber President John McSweeney said,
"It has been an incredibly difficult year for our business community, so I think we all need some positivity and the Waterford Business Awards are sure to provide just that."
The shortlisted businesses were nominated by the public and also through a self-nomination process.
An independent judging panel decided upon the finalist shortlist after a rigorous judging analysis of each application.
WLR will broadcast features on all the shortlisted companies on 'The Hot Desk' in the lead-up to the awards on March 4th and you can listen back to the programmes on podcast on WLRfm.com.