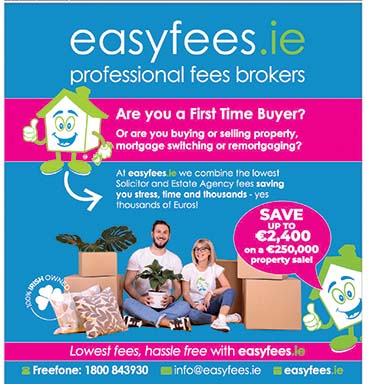 https://issuu.com/voicemedia6/docs/waterford_today_31-07-2019_alt
PROPERTY buyers in Waterford can stand to save a huge chunk of change in fees with the services of a new, locally headquartered service, Easyfees.ie.
Based in Tramore, the new business rolls the lowest solicitor and estate agent fees all into one package, offering a hassle-free alternative to customers as they negotiate the complex property-buying process.
Following an analysis of the Waterford property market from January-November 2021, Easyfees.ie found 1,485 property transactions were made.
Easyfees.ie could have saved customers the following (based on an average house price of €270,000):
First-time buyers: Over €687,000 in total; individual savings of €873 incl VAT
Mover/Purchasers: Over €1 million in total; individual savings to €2,497 incl VAT and Estate Agent fees
Buy-to-let/Investors: Over €245,000 in total; individual savings of €873 incl VAT
To find out more, go to: www.easyfees.ie