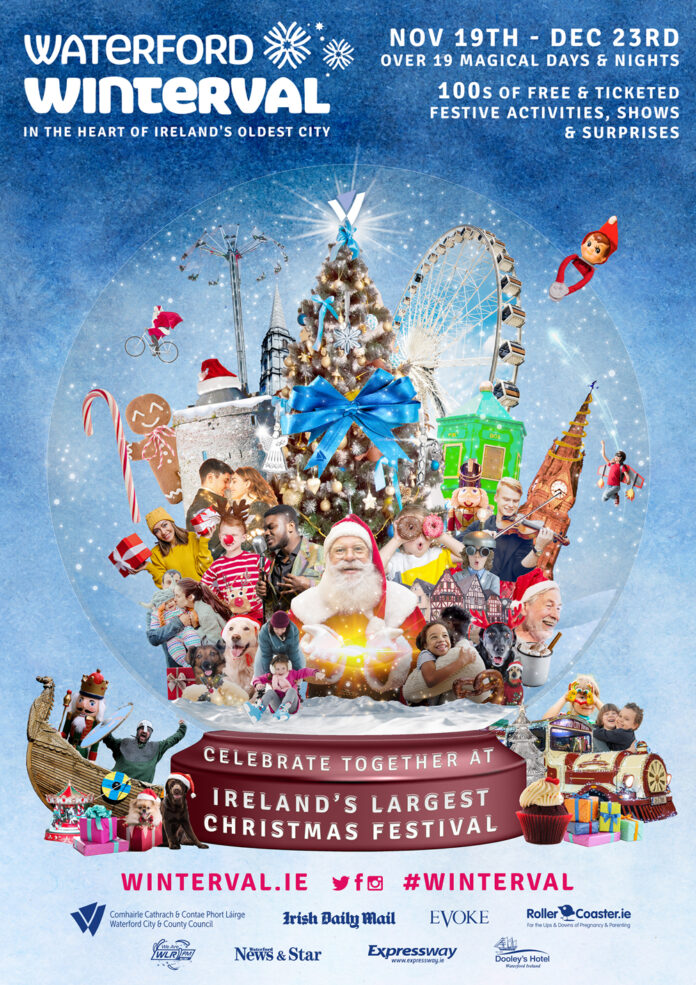 https://issuu.com/voicemedia6/docs/waterford_today_31-07-2019_alt
Brought to you by Waterford City and County Council and running over 19 magical days and evenings from Friday November 19th to Thursday December 23rd 2021 across Waterford City, Winterval returns for its 9th year to capture the hearts and minds of kids and adults alike.
Ireland's oldest city (and now officially the best place to live in Ireland), Waterford will be transformed into Ireland's largest Christmas festival.
Brought to you by Waterford City and County Council, the theme of Winterval 2021 'Celebrate Together' marks the gathering back together of families, friends and communities and ushers in the reemergence of large civic events to Ireland.
Look forward to a round-trip non-stop journey to a world of Christmas celebration, festive food and craft markets, live music and arts performance, family attractions, seasonal surprises and a plethora of free and ticketed programming for all ages to enjoy.
Speaking with great excitement of this winter's festival, Festival Co-Director Shell Holden
commented "Building upon the wonderfully rich and much-loved 9 year history of
Winterval, this year's world-class festival line-up is bigger and brighter than ever with
Ireland's largest Christmas tree measuring over 50ft tall, over 100 free and ticketed
festive activities, shows and surprises and over 130 hours of festive-fun, memory-makers
and belly-laughs for all ages to enjoy."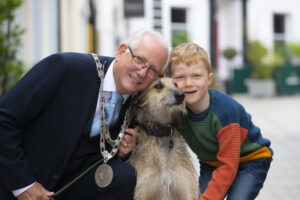 This year, more than ever, a festival that celebrates family and togetherness is
particularly welcome.
Commenting on this year's Winterval, The Mayor of Waterford City and County, Cllr. Joe
Kelly says "We are delighted that the magic of Winterval is returning to Waterford once
again. This year, more than ever, a festival that celebrates family and togetherness is
particularly welcome. Waterford has so much to offer all year round, but Winterval really
focuses the spotlight on the magic of the city and county. It's testament to the great
community spirit and the support of local businesses and Waterford City and County
Council, that have worked so hard to recreate the wonder of Christmas and bring some
festive fun to the streets."
A joyous celebration of the Christmas season, this year's Winterval 2021 will showcase an
elevated and immersive programme of events including themed Festive City Quarters,
new festival destinations and hero events, the brand new Ar Ais Le Cheile Irish living
language area for families, the p-awesome Petstival zone filled with doggie delights and
pet programming, enhanced festive food and craft markets including delicious global
flavours from the very best of Ireland's street food scene, and entertainment for kids and
adults, families friends and furry four-legged friends alike – all happening amongst
Ireland's largest Christmas tree, shining bright right at the heart of Waterford city.
Five fun-filled Festive City Quarters, this year's themed Winterval festival destination areas, will be spread across Waterford city for festival-goers to visit and revisit across the 5 week festival run and include the Continental Christmas Market Quarter (John Roberts Square / Broad Street / Michael's Street), Elfstival Festival Family Quarter (Arundel Square), The Ever-Greenway Quarter (The Apple Market), Christmas Cultural Quarter (O'Connell Street) and the much-anticipated Winterval Wonder-Events Quarter (The Viking
Triangle).
Soak up the Christmas atmosphere and yuletide spirit, browse the European styled
Christmas craft and food stalls and support local, regional and national producers, makers
and creators at the Continental Christmas Market Quarter; Whirl around the colourful
Vintage Funfair including the festival's vintage carousel; Take your family photo with the
spectacular and sparkly Largest Christmas Tree in Ireland this winter season.
Little and big kids can visit Winterval's Giant Elf right at the heart of Elfstival Festival Family Quarter and post their special letters to Santa at Winterval's gigantic Postbox. Santa, and his team of trusty Elves, are making the journey from the North Pole to the wonderful Waterford Winterval this festive season. Prepare to go on a magical journey at VIPSanta at the city's Old Sorting Office on The Quays – make sure to book in early to avoid
disappointment.
Get ready to go green at the stunning and beautiful dressed The Ever-Greenway Quarter
at the city's lively Apple Market; Support local at the weekly Saturday Farmer's Market
here; Dust off your dancing shoes and get ready to kick back to live music at the Apple
Market Sunday Sessions celebrating and supporting live artists and musicians. Do not miss
the Christmas Cultural Quarter showcasing the creativity, culture and diversity
synonymous with Waterford's vibrant Cultural Quarter; Enjoy delicious food and creative
craft offerings from Waterford's new communities; Grab your friends and gather at the
Cultural Quarter for the Eats N Beats weekend, the international street food and music
festival within Winterval. Tuck into a smorgasbord of savoury and sweet international
dishes, treats and tastes and dance, laugh and enjoy the live performances on the Eats N
Beats Live Music and Performance Stage all weekend long!
At this year's Winterval, we are unveiling a spectacular brand new fun-filled festive area
for families set in the city's historic Viking Triangle, the Winterval Wonder-Events
Quarter. Families can look forward to not only visiting this hero-events zone but revisiting
this family-friendly quarter every weekend across the 5 week Winterval run and
experience the new weekly programming on offer. The Winterval Wonder-Events Quarter
is home to the Winterval 2021 hero events including Petstival, Ar Ais Le Cheile, Kids
Lab-Land, WAMA-palooza and The Winterval Palace.
Bishops Palace Cafe in conjunction with Blackwater Distillery are delighted to bring you
The Winter Palace – a week of festive food and drink in the Wonder-Events Marquee at
Constitution Square from the 17th to 23rd of December 2021. Admission is priced at €15
per person and will include a festive tipple and a Waterford Blaa filled with Irish Turkey
and Ham with Mulled wine and Cranberry Cabbage or a Cheese and Ham Antipasto
(vegetarian options also available). To drink choose from a selection of hot and cold
cocktails like a warm Barry's Tea Gin Punch or a Hot Velvet Cap Whiskey and many more.
Once inside The Winter Palace you can swoon to Old Time Christmas Songs and Carols and
delight in the wonder of the sparkling Christmas Lights and Festive Atmosphere. There will
also be an array of other Christmas offerings like Marshmallow Snowmen, Spiced Hot
Chocolate and plenty of Speciality Coffee and Winter Warmers to keep the cold outside.
See the programme of events and booking details at www.winterval.ie
Free and Ticketed Events
Facebook WintervalWaterford / Instagram winterval_waterford / Twitter @winterval_wat
#winterval