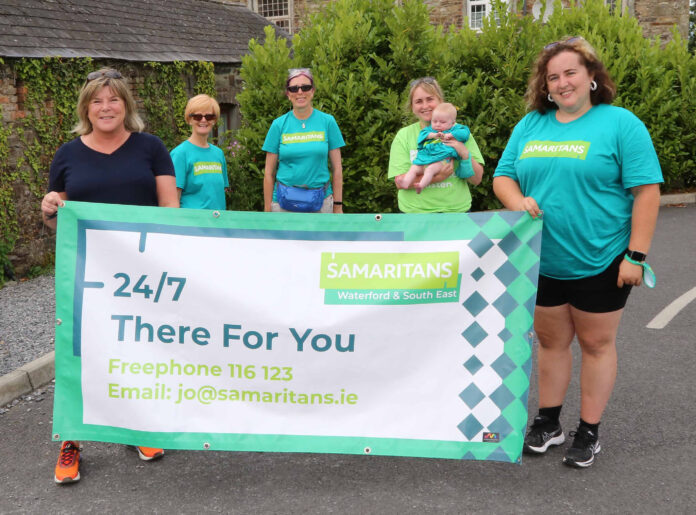 https://issuu.com/voicemedia6/docs/waterford_today_31-07-2019_alt
The 24th of July is a special day for Samaritans. 24/7 is a day we use each year to highlight that we are available 24 hours a day 7 days a week.
This year on the 24th of July (24/7) a group of walkers left Dungarvan at 6am and reached Waterford just after 5pm. They were joined by other walkers along the way. The group walked in memory of Samaritan volunteer Nigel Pim. Last year Nigel completed this walk with his family. May he rest in peace. Ar dheis Dé go raibh a anam uasal.
Director Sharon Devereux, would like to take this opportunity to thank the people who made this walk successful, thanks to Paula, Ann, Catherine, Noel, our amazing support team of Nellie, Anne, Michael and Brian, who kept our walkers hydrated, motivated and supplied everything from tea and coffee, water, blister plasters, fruit and energy bars.
A huge thank you to our walkers, these dedicated people went above and beyond to promote our service and to raise vital funds. Our youngest walker, Mollie Mernagh, at 13 years old, showed determination and resilience beyond her years. Without our walkers, this would not have been possible. You are all truly remarkable.
Minister of State for Mental Health and Older People, Mary Butler TD, joined our walkers at Coach House Coffee. Mary offered words of encouragement and praise to our group. We were also joined by our youngest supporter Neasa Burke (3 months). Councillor Liam Brazil joined our walkers at Durrow. Grace O' Sullivan MEP, Rory Fitzgerald, Regional Director of Samaritans for the Republic of Ireland and Aaron from Waterford In Your Pocket welcomed us home on the William Vincent Wallace Plaza. We really appreciated the support.
We would like to thank our sponsors Railway Cottage, Dunphy's of Annestown, Dawn Meats, Whistlestop café and Waterford Suir Valley Railway, Dungarvan Credit Union and Barron's Bakery. We would also like to thank Johnny Brunnock of Waterford County Council for his help.
Our final thank you is to everyone who so kindly and generously donated and shared our message. Your donation will be used to keep our service going for the people who need it.
At Waterford and South East Samaritans, we have over 120 volunteers and we know how powerful listening can be. During the pandemic, Samaritans' helpline has been an important source of meaningful human connection, volunteers have clocked up more than one million hours listening to those struggling to cope. Listening helps us build relationships, be there for others and it can save lives. It's so important to reach out for a chat with someone you care about. Whether in person or virtually, it's about taking time to really listen to another person which can in turn help them work through what's on their mind.
Anyone can contact Samaritans, free, 24/7, 365 days a year, on 116 123, email [email protected] or visit www.samaritans.org.