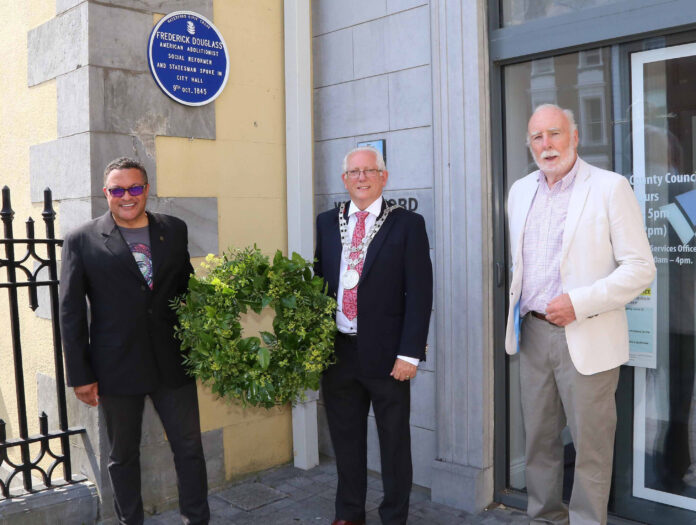 https://issuu.com/voicemedia6/docs/waterford_today_31-07-2019_alt
On Friday 23 July, Waterford Civic Trust welcomed a number of Frederick Douglass Global Fellows and international exchange students from the United States, who are currently in Ireland retracing the visit of opponent of slavery, social reformer and humanitarian, Frederick Douglass, to Ireland and Waterford in 1845.
Among the group was Kenneth B. Morris, Jr., great great great grandson of Douglass and Paul Stovall, actor and vocalist, acclaimed for playing the role of George Washington in the hit American musical, Hamilton.
Douglass in Ireland 
Frederick Douglass was born into slavery in Maryland, USA, in 1818. He escaped, aged twenty, and in 1845 he published his autobiography, The Narrative of the Life of Frederick Douglass, An American Slave. The resulting publicity put him in danger of capture as a runaway slave and so he was persuaded to travel to Ireland and Britain on an extended lecture tour.
Arriving in Dublin in 1845, he lectured there and in other Irish cities, including Cork, Wexford and Waterford. According to a local newspaper, his talk in City Hall, on 9 October 1845, attracted a 'numerous attendance'. He spoke 'with energy and feeling, and was listened to with marked attention by his audience', as he recounted the evils and horrors of slavery. The newspaper report concluded with the comment that 'the cause he so ably advocates deserves the support of every friend to humanity'.
"Slavery is one of those monsters of darkness to whom the light of truth is death"
Douglass was a passionate believer in the need to heighten public awareness of the realities of slavery and the miseries and sufferings it visited on millions of men, women and children. He declared: 'I expose slavery because to expose it is to kill it. Slavery is one of those monsters of darkness to whom the light of truth is death.'
After a transformative visit Douglass left Ireland in January 1846. Reflecting on his experiences, he wrote to a friend: 'I can truly say, I have spent some of the happiest moments of my life in this country. I seem to have undergone a transformation. There was an entire absence of everything that looked like prejudice against me, on account of the colour of my skin.'
Kenneth Morrison and Des Griffin, Chair of Waterford Civic Trust, planted a sweetbay magnolia tree in the garden of the Bishop's Place, to honour the life and legacy of Douglass. This tree symbolises nobility of character, endurance and perseverance, attributes which were central to the life and personality of Douglass.
Following this ceremony, representatives of the visiting group, accompanied by Des Griffin, laid a wreath at the Heritage Blue Plaque erected by the Civic Trust at the City Hall to commemorate Douglass's visit in 1845.
Mayoral reception The Mayor of Waterford City and County, Councillor Joe Kelly, received the representatives in City Hall. Welcoming them, he paid tribute to the life of Frederick Douglass and his opposition to slavery. The mayor observed that the message of racial equality, proclaimed by Douglass, was as relevant now as it was in 1845. He was delighted to hear that the visiting group intends to return to Waterford at a future date. He looked forward to receiving the full group on that occasion, if Covid guidelines permitted him to do so.