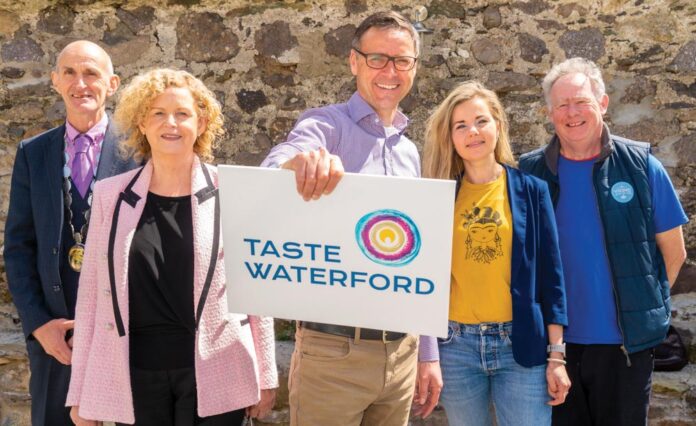 https://issuu.com/voicemedia6/docs/waterford_today_31-07-2019_alt
'FOOD the Waterford Way' has just undergone a brand makeover and has relaunched as 'Taste Waterford'. To mark the occasion, a fine evening was had by all at the official launch on Tuesday 10 May, at Cooney's Yard by Comeragh Mountain Lamb.
Taste Waterford aims to continue the tradition of the county's strong food and drink story by offering a membership with a range of marketing, training and networking supports to help businesses grow their profile.
Taste Waterford also offers a comprehensive website and initiatives to allow locals, and tourists to Co Waterford access a range of quality food and drink producers, along with information on where to enjoy the produce. A range of tours, trails and active experiences will offer foodies the chance to meet producers and hear food stories.
The new look ensures the name remains relevant to audiences, and the redesigned website and further initiatives will help to highlight the food and drink story further.
endorse Co. Waterford as a leading food and drink destination
Key plans for 2022 include developing a range of Taste Tours and Taste Trails.
Richard Povey, Taste Waterford Project Manager, said: "We have a great opportunity to further endorse Co. Waterford as a leading food and drink destination in Ireland. We have an incredible breadth of producers, food stories that are passed down through generations, and the heritage of Waterford port being the first to import ingredients into Ireland.
"Combine this with the stunning landscapes — mountains, countryside and coast – we offer a great place to live and an incredible foodie experience to visitors and tourists to our county."
If you are interested in becoming a member of Taste Waterford, or want to hear about the latest food and drink news in Co Waterford, visit: www.tastewaterford.ie