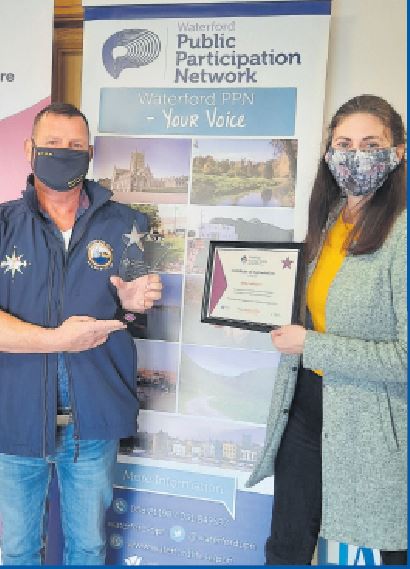 https://issuu.com/voicemedia6/docs/waterford_today_31-07-2019_alt
WATERFORD'S heroes have been given the credit they deserve at the recent Waterford Community and Voluntary Awards. Billy Gallagher of River Rescue was named the overall winner at voluntary awards
Now in its 16th year, the awards were set up to recognise and celebrate the community organisations and volunteers that work tirelessly in our communities and to thank them for their outstanding contributions. Together, they make Waterford's communities a great place to live, work, play and visit.
The awards this year were slightly different, with Waterford Public Participation Network (PPN) collaborating for the first time with Waterford Volunteer Centre and introducing two new awards to recognise the efforts of individuals in response to the Covid-19 pandemic.
The pandemic highlighted the vast resource that volunteers bring to their communities, such as providing supports to the elderly and vulnerable by bringing groceries, collecting prescriptions, walking dogs, or simply by calling and checking in. Others responded to the growing isolation that was being felt by setting up virtual chat groups or local walking groups when restrictions permitted.
This year's winner — and the Covid-19 Community Champion — is Billy Gallagher, of Waterford City River Rescue.
Billy has been volunteering for 12 years with Waterford City River Rescue and has helped save countless lives. He is also the Training Officer and so shares his skills and knowledge with other crew members to enable them to save lives.
He is held in high esteem by his crew members who say that "through searches, rescues and life, Billy is there through thick and thin".
Meanwhile, the winner of the Covid-19 Special Project Award is John Mansfield, from the St Anne's Court Residents Association. At St Anne's centre, the word is "there is no job too big or too small for John, and despite being referred to as one of the older residents on the estate, he certainly takes on the lion's share of the work."
"From cutting grass, growing sunflowers and pumpkins, and engaging younger generations in keeping the place litter free, John creates a wonderful atmosphere in the community. He always has a smile and chat for everyone, and the residents feel they are privileged to have him."
The annual awards are usually celebrated at a gala ceremony, where over 200 people would attend, including representatives from all nominated groups/volunteers, sponsors and elected representatives.
Sadly, because of Covid-19 this great event wasn't possible this year.
For more information on the Waterford Public Participation Network, go to: www.waterfordppn.ie and to find out more about volunteering opportunities in Waterford, go to: www.volunteerwaterford.ie