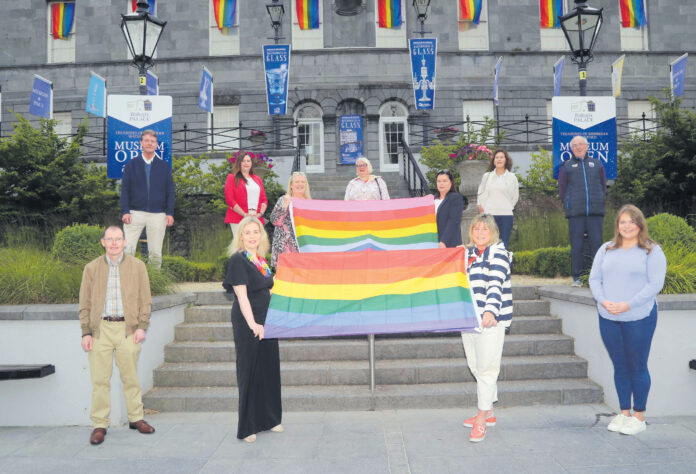 https://issuu.com/voicemedia6/docs/waterford_today_31-07-2019_alt
WATERFORD rallied to support its gay community in response to a number of homophobic incidents across the city.
Pride Flags, in the rainbow colours that symbolise LGBT equality, were destroyed on two occasions and posters boasting about 'Straight Pride' were placed around the city.
But the rainbow flags on The Mall went up for a third time on Monday – and they have been flying at many other sites, including business premises, the Waterford Treasures museum, Tramore Amusement Park and Garda stations in the city and Dungarvan.
City Hall was floodlit in the rainbow colours and the landmark Misery Rock has become Pride Rock. temporarily taking on some of the rainbow colours.
proud to show our support for the LGBTI+ community
Bank of Ireland was among the businesses speaking up for the LGBT community. The bank has made a donation of €10,000 to ChillOUT, a youth project which works with LGBTQ+ young people in Waterford and throughout the South East. "We're proud to show our support for the LGBTI+ community at this time," said Derek Shannon, Head of Bank of Ireland for Waterford and Kilkenny.
Politicians have also offered support. Minister of State, Mary Butler, and Senator Lorraine Clifford Lee joined other members of Waterford Fianna Fáil in a gesture of solidarity.
no place for actions of homophobia in Waterford
"There is no place for actions of homophobia in Waterford and we must all continue to stand up against such acts," said Ms Butler. "Waterford is a very welcoming place and we stand proudly today in solidarity with the LGBTQI + community."
Waterford city's FF chair, Stephanie Keating, said they had come together to publicly condemn the 'Straight Pride' posters and flag destruction. "We should all fly the flag high and proud in our city," she said.
People Before Profit said the level of support and enthusiasm for flying the rainbow flag shows the real pride Waterford has for its LGBT community.
"We encourage everyone to answer the homophobic hate with defiance and solidarity," the party said in a statement.
The rainbow flags on The Mall were destroyed after Pride festival events in Waterford. Posters were then put up around the city showing a picture of a man and woman in wedding costumes, with the message: "Straight Pride: it's natural, it's worked for thousands of years and you can make babies". Debbie O'Rourke, a community youth worker with ChillOUT, thanked Bank of Ireland for its gift.
"This donation will go a huge way towards creating opportunities for LGBTI+ that would not have been possible without it," she said. "It brings so much happiness and possibility to our work with young people."
"LGBTI+ young people have always been part of Waterford's vibrant community and they will continue to be supported, celebrated, and protected," said Ms O'Rourke.
"We will work together to end homophobia and transphobia. "