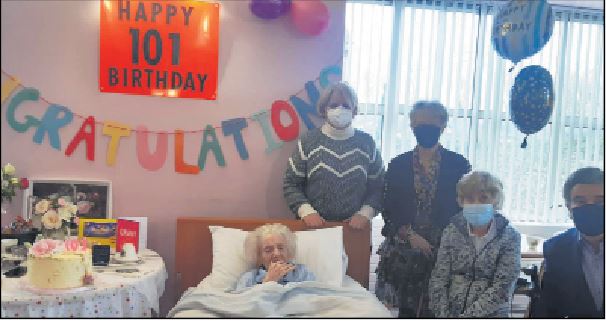 https://issuu.com/voicemedia6/docs/waterford_today_31-07-2019_alt
A VERY special day for a special woman was held recently, as one of Dungarvan Community Hospital's lady residents celebrated her 101st birthday.
Born in 1921, Mrs Eileen O' Brien (a native of Grallagh, Grange, Ardmore) is a grandmother of 16, has 33 great grandchildren and is cared for in the St Francis Unit.
Eileen was joined by her daughters Mary Lynch and Claire Cummins, son Kieran and his wife Breda (above), to mark the occasion (with Eileen's late husband John and late son Michael also remembered on the day).
A woman of great faith, Eileen was a regular at 10am Mass every morning in Ardmore until quite recently.
During long years of community involvement, Eileen's talent with needle and thread can be seen in the altar cloths at both Ardmore and Grange churches.
The Director of Nursing at Dungarvan Community Hospital, Ms Paula French, said: "We extend our congratulations to Eileen and her proud family. We are delighted to see her reach 101.
"It has been a challenging time for residents and their loved ones over the last two years. It has also been challenging for our own staff and their families. So, it's great to see Eileen and her family celebrate a happy birthday here with us."