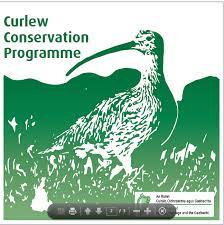 Citizen scientists can help bring one of Ireland's most iconic birds back from the brink by reporting sightings to the National Parks and Wildlife Service (NPWS).
The Curlew Conservation Programme is encouraging members of the public to record locations of Curlew sightings and report the information to the NPWS.
Breeding Curlew are currently nesting in bogs, pastures, meadows and other open and wet habitats in curlew hotspots around the country.
By submitting records of sightings, the public can help build up a national picture of the number of breeding birds.
"This is a fantastic way for people across the country to get to know the wild places in their county and at the same time, to contribute to the conservation, of one of the most iconic and best-loved birds," Minister for Heritage, Malcolm Noonan said.
"I'd like to encourage all budding citizen scientists, young and old, to get involved and help our Curlew Conservation Programme team to gather this important data which will support the ongoing protection of the Curlew."
How to submit records:
By email: [email protected]
By phone to the survey coordinator: 0831048000