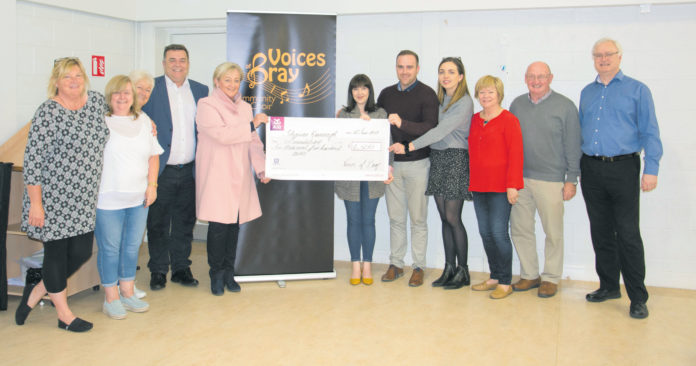 Those wonderful people from the Voices of Bray Community Choir have done it again – they've raised several thousand euros in aid of a deserving charity.
Following the recent series of sell-out concerts in the Mermaid Arts Centre, the Choir presented a cheque for €6,500 to representatives of the Foundation, which included the late Shauna's parents Brendan and Ann Kavanagh, and her brother, Dylan.
In accepting the cheque, Brendan said that this would help the Foundation enormously in their efforts to assist those suffering from long term illnesses, including Cystic Fibrosis and to help offset the day-to-day expenses incurred by families as they support their loved ones struggling with such illnesses.
Outstanding success
The summer series of three concerts were an outstanding success again this year.
Under the guidance of their Musical Director John Ivory, piano accompanist Justin McCann, and featuring special guests Eimíle Sheehy on cello and Killian Ivory on guitar, the choir took on its most ambitious and varied programme to date, featuring more challenging arrangements.
The eclectic mix took the audience on a musical journey with songs from Joni Mitchell, Billy Joel, Radiohead, Rodgers & Hammerstein, ELO and many more.
The choir will now take a well-earned break but will return in September for another exciting season which will include Choral Festivals and the annual Christmas Concert in St Fergal's Church on Sunday December 8, 2019.