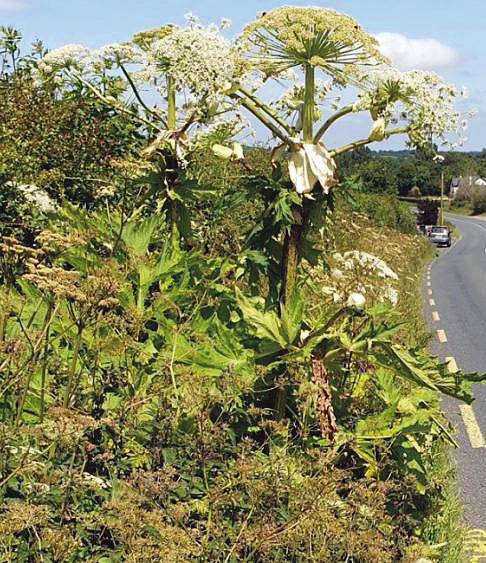 Wicklow residents have told to be on the lookout for the invasive Giant Hogweed after an 11-year-old girl was burned in Bray recently.
The toxic plant is believed to be spreading along the banks of the Dargle River and this is where the young child came in contact with it.
Wicklow Sinn Féin representatives John Brady TD and Cllr Grace Mc Manus issued a statement this week calling on Bray Municipal District to put in place a management and eradication plan to tackle the Giant Hogweed.
toxic burns to her legs which badly blistered
"The child received toxic burns to her legs which badly blistered," Mr Brady told the Wicklow Voice.
"The invasive plant grows along the Dargle River at a number of different locations and over the last few years has spread considerably."
The Giant Hogweed was first introduced to Ireland in the last 150 years and has since spread nationwide – each of the bulbs contain around 50,000 seeds and it typically spreads on rivers.
Hogweed can cause severe blisters to the skin which are said to be equivalent to third-degree burns and which will continue to cause pain for a lifetime on affected areas when exposed to the sun.
each member state is required to carry out appropriate prevention
It can grow up to five metres in height, and its sap contains toxic chemicals that react with light when they come in contact with human skin.
The toxic burns in humans can take up to six years to heal and has been known to cause blindness in some cases.
"The European Regulation of Invasive Alien Species was enacted in 2015, involves a dynamic list of 49 invasive species of concern in the EU, this included the Giant Hogweed," Mr Brady added.
"Once a species is added, each member state is required to carry out appropriate prevention, early detection and rapid eradication and management measures."