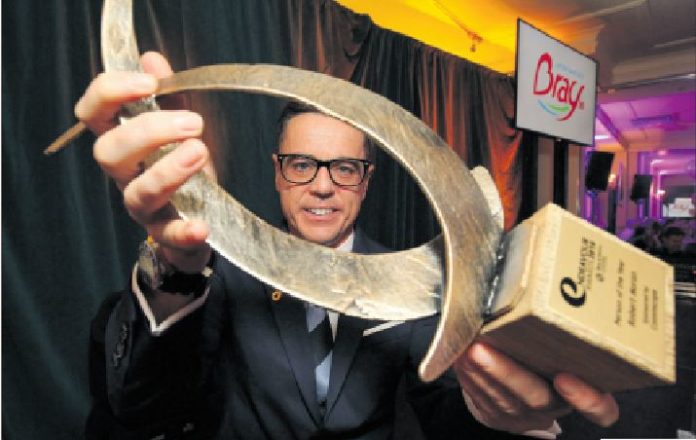 Hundreds turned out for this year's Bray Chamber and District Endeavour Awards which saw the people who contribute so much to the community being honoured.
Bray Person of the Year 2019 went to Rob Moran for his charity work for local groups like Martin Codyre and The Gavin Glynn Foundation and his sporting success that includes three Iron man competitions this year.
Zan O'Loughlin received the Lifetime Achievement Award for her work with the Arts and music in Bray over several decades and her fundraising for local groups.
It is an honour to receive an Endeavour Award
"It is an honour to receive an Endeavour Award and we wish to thank Bray & District Chamber of Commerce and all involved," Suzanne Cox of open Door Day Centre, who won the Community Award, told the Wicklow Voice.
There were many other big winners at the ceremony at the Royal Hotel on October 18.
Adam Burke won the Civic award for his community work with Ballywaltrim Community playground, with Youth Clubs in Bray, his work with The Comedy Festival and his work with Youth pod.
The Sports Achievement went to the U16s Ladies Bray Rowing Club for their successful season winning Gold medals in the U 16s Patrick's Regatta, the Greystones Regatta, the Wicklow Regatta, the Bray Regatta, East Coast Regatta Gold winners and second in the all-Ireland Rowing Championships.
In the Young Achievers category, Eimear Cahill and Thea Fogarty of Loreto won the Arts and Sports awards while Presentation College's Rory Mulcahy and Killian Bourke received the Academic's award.
Meanwhile, the business award winners were:
Retailer: Fleurtique
Online Retailer; Arcade jewelllers
Emerging Business: Catalyst
Small Business: Bray Homecare
Large Business: Oriflame
Manufacturing: Key Plastics
Hospitality: Maison Moli
Employee of the year: Natalie Moloney Tesco