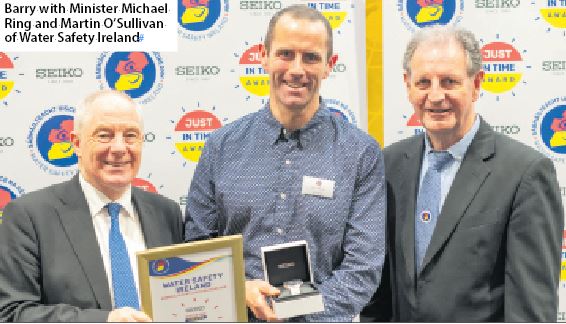 A brave dad who dived into rough seas in Greystones to save the life of a stranger has won an award for his deeds.
Barry Mahoney (40) was walking with his wife and three children – Cattleya, sons Sidney, Victor and daughter Amelie – in October 2018 when they noticed a woman going for a swim in very difficult conditions.
A number of strong waves hit the swimmer and she became disorientated as a result before Barry immediately responded to the unfolding emergency.
He discarded his belongings and entered the sea with a lifebuoy and in spite of high waves and strong winds, Barry reached the woman and thankfully pulled her to safety.
You could tell the minute she got in the water she was in trouble
"When she hopped in the water you could see this big set of waves coming along." he said.
"I don't think you would have been able to see it from where she was standing.
"It really was the worst timing to hop into the sea. If she had waited for a minute she might have reconsidered and gone home.
"You could tell the minute she got in the water she was in trouble. She tried to get out and got caught by a big wave. It smashed into her, and smashed her into the ground."