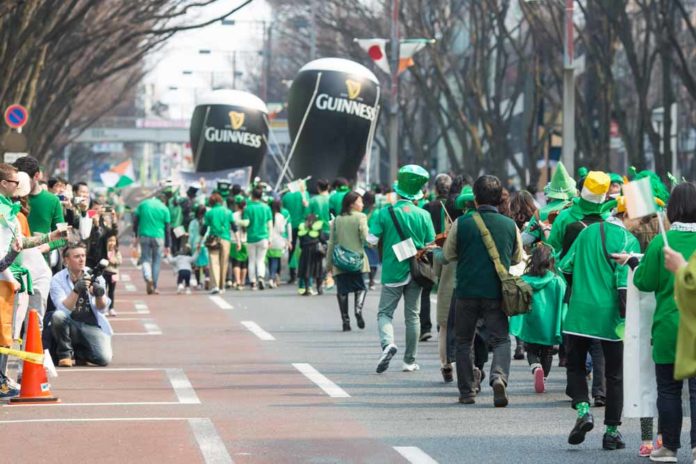 County and city councils all over Ireland have worked hard to put together a wide range of activities for all the family this St Patrick's Day, the 17th of March. With everything from parades to ferris wheels and fireworks displays, there is something for everyone to enjoy.
Taking part in the community-led activities and events across St Patrick's Weekend is a great way to support local businesses, local clubs such as GAA, dance, youth groups, and many more.
Some highlights around the country include, the largest gathering of leprechauns in the world being hosted in Sligo; an entirely bee-themed parade in Kilkenny during which native wildflower seeds will be given to plant throughout the community; and, a Panoramic Wheel in Limerick which will offer stunning 360-degree views across the city's skyline.
In recent years, Failte Ireland has come together with many local authorities and communities to attract international bands and visitors to their local St Patrick's Day parades, through the celebration of Irish culture and traditions. So, you can be sure to see traditional Irish music, sport, and dancing all over the country on the 17th March.
Make sure to keep your eyes peeled at your local parade as a few celebrities might even be making appearances across the country to join in the celebrations!
Local councils have also made huge efforts to ensure any floats are made with recycled materials and some, like Waterford City and County Council, have even put a rule in place that parade participants cannot use diesel powered vehicles in the parade. Waterford will also award the most environmentally friendly float, making for a real Green Festival!

Don't panic if you can't make it on the day as a few of the local parades will be live streamed on social media, and the day's activities can also be followed using hashtags on Twitter. Many local communities have even stretched the celebrations to make it a two- or three-day event!
Local parades will also be catering for people with special needs and requirements, with County Clare incorporating an autism-friendly area where people with autism can go if they are feeling overwhelmed by the noise or crowds at the parade while still getting to enjoy the St. Patricks Day spectacle.
You can check out your local County or City Council website or social media accounts to keep up to date with all the latest St Patrick's Day happenings in your community.
County and City Council staff will be working at events all over the country alongside thousands of volunteers. City and County Councils support more than 1,400 community events nationally every year. As well as financial support, this includes everything from staff support, health and safety support, to outdoor logistics, coordination and planning. Irish City and County Councils are investing €2.5 million in St Patrick's Day, so be sure to get involved in your local celebrations!