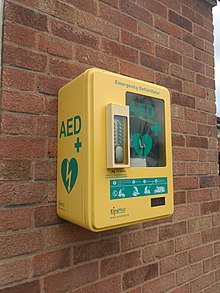 Locals in Rathnew and Wicklow Town have raised more than enough money through a GoFundMe page to replace the defibrillator destroyed by vandals recently.
Gardai are believed to be making progress in their hunt for the vandals who dumped the now recovered defibrillator stolen from Rathnew.
It is the third defibrillator targeted in County Wicklow in recent months – in October, one was vandalised in the Vevay area of Bray while another was wrecked on Strand Road in June.
"You're looking at €1500 for that community to replace this."
The defibrillator taken in Rathnew was snatched from Centra and was recovered from the grounds of the school opposite the supermarket in Merrymeeting.
Gardai are believed to be carrying out finger print analysis in an effort to catch the thugs and anyone with information can call Wicklow Garda station at (0404) 67107.
"It is a piece of equipment that can deliver an electric shock to a patient's heart if they are in cardiac arrest," Dr David Menzies, medical director of national Community First Responder network.
"The cheapest defibrillator is just north of €1,000 plus VAT, they need to be kept in a heated cabinet as cold weather will degrade the battery.
"You're looking at €1500 for that community to replace this."