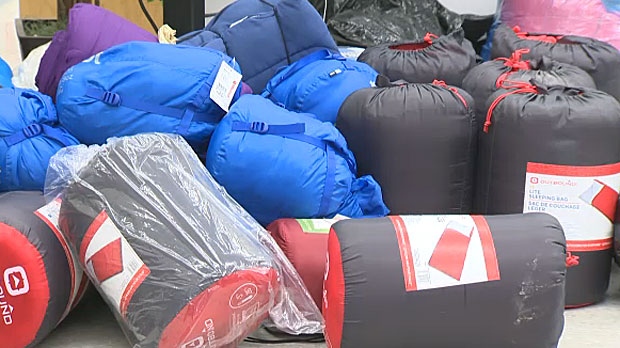 An appeal has gone out for locals in Wicklow to help rough sleepers as the harsh winter approaches.
"We urgently need sleeping bags, dignity packs, hats, scarves, socks and other such items," Berni Vickers of Bray Area Rough Sleepers Support (BARSS) told the Wicklow Voice.
As many 19 people every night seek the services of BARSS, a marked increase in the four years since the volunteer group began.
"BARSS first soup run was on November 23, 2015," Berni added. "When we began we might meet from one to three people but now we might engage with up to 19 people on any given night which takes its toll on our limited resources.
Our main aim is to get these people through the night
"Because of weather conditions tents and sleeping bags get wet and our rough sleepers have no way of washing or drying. We are a group of volunteers who visit our rough sleepers every night at a certain time at designated stops in Bray to bring them supplies, most of which are from our own kitchen presses and our own pockets, with some kind donations from people in the community.
"Our main aim is to get these people through the night by giving them hot drinks and sandwiches etc, because there is limited support for them especially at weekends, and we feel that our interaction is very important.
"The very essence of being a human being is to feel that someone cares, and this very small act of kindness each day might make all the difference.
"We want our community to be aware that there are people in need around us – and not just people that we meet, there are also the 'hidden homeless', those who are struggling to pay mortgages and rents. We are all just one pay cheque away from homelessness.
We are all just one pay cheque away from homelessness.
"We implore our local TD's and Councillors and local Council to work together towards ending our homeless crisis. We all have a basic human right to proper housing and amenities."
BARSS are always seeking new volunteers and supplies – if you are in a position to offer some donations of supplies, you can contact BARSS open page on Facebook.
Berni was speaking at a cheque presentation of €730 in CSP Gym on Ardee Street which was raised by Sorcha Nic Craith of SoZen yoga.
Sorcha recently qualified as a yoga teacher and decided instead of launching into her new business she would give something back to the community instead.
"I decided to run two weeks of donation based classes called Yoga For Bray. CSP owner Alan Sherry kindly allowed us to use his studio for the classes and all the proceeds going to BARRS.
"We raised a total of €730 which we gave to BARRS in Tescos and Dunnes Stores vouchers.
"We've started officially running our yoga classes from the same studio and you can con tact me at @sozenlifestyle on Facebook if you would like to learn more."