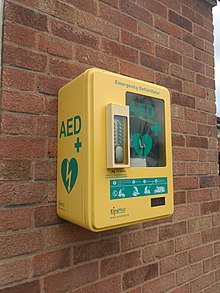 Heartless vandals have stolen a public defibrillator located at Chrissy D's pub in the Vevay in Bray.
Volunteers were disappointed to discover that the box had been opened and the AED device was missing.
Marc Windsor, coordinator of Bray CFR, said that a volunteer driving along the Vevay Road on Monday morning realised that it had disappeared. Earlier this year, vandals also targeted an AED on Strand Road.
There are now almost 17 public access defibrillators in Bray and around 30 volunteers. They meet for training on the first Thursday of every month in Sunbeam House at the Taylor Centre, Vevay Road.
People can drop in to have a look or contact Marc at 086 2658455.
If anyone has any information regarding the damage to the defibrillator box, contact Bray Garda 01 6665300.