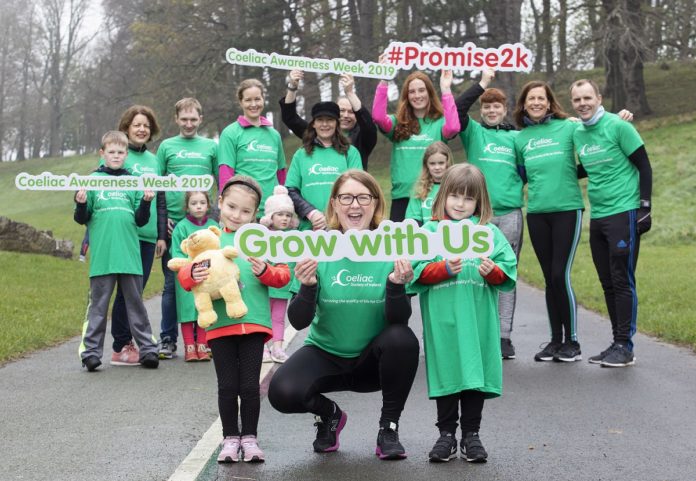 Coeliac disease sufferers planning Walk for Awareness around Ireland to highlight 7,300 undiagnosed children
Coeliac disease sufferers are planning to 'walk around Ireland twice to raise awareness for the estimated 7,300 children who have the condition but are undiagnosed.
The Coeliac Society of Ireland says that 20 percent of the 36,500 people in Ireland with undiagnosed coeliac disease are aged under 14, based on EU averages.
Sarah Keogh, Coeliac Society in-house dietitian, said: "Coeliac disease is a chronic autoimmune disease that impacts growth and development in children as well as impacting on their concentration at school and their energy levels in all areas of their lives.  Children can complain of abdominal pain – pain that is often put down to anxiety – as well as exhaustion.
low energy, stomach pains, low iron, picky eating and unexplained weight loss are all signs to look out for.
"Poor absorption of key nutrients means these children may not reach their full height potential and girls will often have delayed periods and impacts on fertility in later life.  We need to think coeliac more often in children – low energy, stomach pains, low iron, picky eating and unexplained weight loss are all signs to look out for."
 The Society has enlisted its army of 3,600 members for sponsored walks to raise awareness of the issue. Members plan to walk or run between 2km and 5km, which is the equivalent of at least 7,314km or 1km for every undiagnosed child and amounts to walking around Ireland twice.
The sponsored walks will take place during Coeliac Awareness Week, which runs from 13th-19th May this year and is focused on children coeliac sufferers with the theme 'Grow With Us'.
 Coeliac Awareness Week will this year include Ireland's first ever National Gluten Free Day, on Thursday, 16th May, when the Coeliac Society will stage a 'Grow with Us' themed event to highlight how children with coeliac disease thrive and have healthy, active lives once their condition is diagnosed. At this event will be coeliac children and adults, medical experts, gluten free cooking demos and food tasting.
Walks for Awareness are being held by various branches of the Society in locations around Ireland, including Dublin, Cork and Galway amongst others.
 Gill Breennan CEO said: "We are thrilled with the level of commitment from our members. Through their own personal experiences many of them are only too aware of the current difficulties in not only getting diagnosed but also the delays in accessing the right supports.  With so many children suffering unnecessarily it is important that we organise events like these to inform the public that this disease is real, can be diagnosed and that it is very manageable.
 "Whether a sufferer or not the Coeliac Society of Ireland will welcome all support and are happy for members of the public to join in or walk themselves as a show of support".
 Promise Gluten Free are sponsors of Coeliac Awareness Weekend and if you wish to show support to the walkers and raise awareness of the estimated 7,300 undiagnosed children in the country you can use the hashtag #Promise2k or #Promise5k