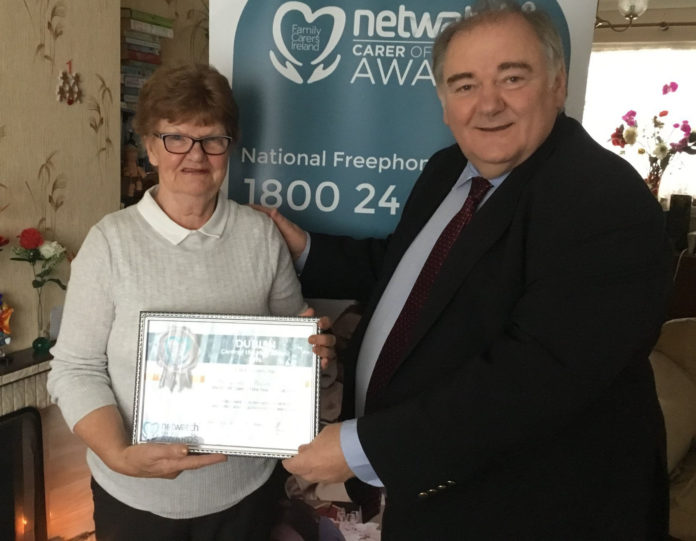 Margaret (Pearl) Pryor from Bray has been named the Wicklow Netwatch Carer of the Year. Pearl cares for her daughter who has an Acquired Brain Injury for the past nine years.
"She provides this care with compassion and love, she also promotes and encourages independence and helps her daughter to live as 'normal' a life as possible," organisers said.
"Pearl is a brilliant advocate for her vulnerable daughter and will keep fighting for her, she cares and loves every member of her family equally and has never made anyone feel left out or forgotten.
"She is a very loving and caring person and really deserves this award."
Broadcasters and patrons of Family Carers Ireland Marty Whelan and Mary Kennedy presented Pearl with her award.
The 2019 Netwatch National Carer of the Year and four regional Young Carers of the Year for 2019 were announced at a gala awards ceremony held in the Westin Hotel, Dublin on November 22.
Marcin Filak from Meath was named the overall Netwatch Carer of the Year.  Marcin cares for his wife Ola, who suffers from locked-in syndrome, and their two children, the eldest of whom Piotr (13) has autism.
Now in their 13th year, the Netwatch Carer of the Year awards seek to recognise, celebrate and shine a light on the remarkable contribution of Ireland's 355,000 family carers – almost two thirds of whom provide over 100 hours of care per week.