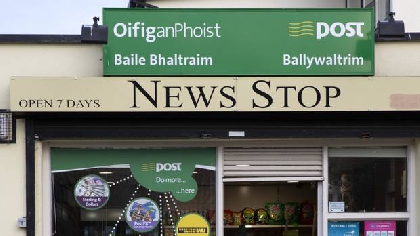 Cllr. Joe Behan. Independent writes …
"I am delighted to report that An Post confirmed to me yesterday (Monday July 15th) that Ballywaltrim Post office will re-open in the coming weeks.
The Post Office will be located in the same shop at Kilbride Lane where it has operated so successfully from the start.
This excellent news will be welcomed warmly by many local people and businesses, who were loyal customers of the post office services here for so many years.
At this time it also important to remember the important work of the late Anne Mc Carthy R.I.P. who began and developed the local post office service in the Ballywaltrim area (along with her many excellent staff members) from the start until her untimely death earlier this year.
I am very grateful to the An Post Management at the GPO in Dublin for constantly keeping me updated on the process of appointing a new Postmaster and for their support for the continuation of the post office service in the Ballywaltrim area.
It is vital now that local people and businesses support the new post office in every way possible so that we will continue to enjoy the services of one of the few remaining public financial service providers left in this country."
Cllr. Joe Behan. Independent.