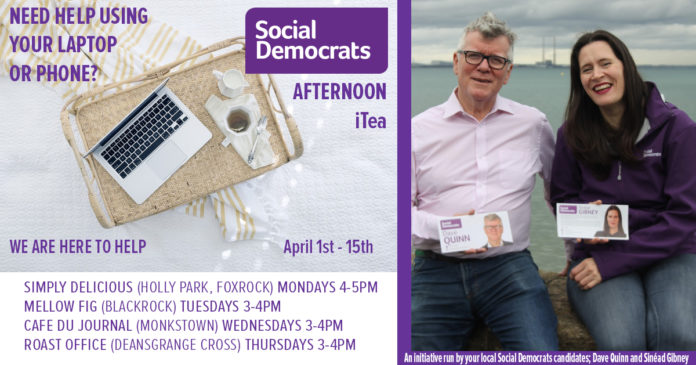 An initiative run by the Social Democrats
Press Release                                                          March 26th, 2019
From April 1st until April 15thSocial Democrats candidates Sinéad Gibney (Blackrock) and Dave Quinn (Dun Laoghaire) will run the initiative Afternoon iTea in local cafés in their constituency.
The idea behind the project is to help familiarise voters in the area but particularly the older generations with the technology of their mobile phones and laptops and to help them to obtain digital skills to be able to access information and services online.
Sinéad Gibney, Social Democrats candidate for Blackrock, said: "As more of our services and community activity move online, it's critical that we equip everyone with the skills to use technology so that they can continue to take part.
"Many people, particularly the older amongst us, struggle with technology and this kind of initiative helps us to pass on skills to anybody who wants them, so that they can stay involved and so that the social divide is not worsened by a digital divide."
"On a practical level, it's increasingly cheaper to shop online, and many government and commercial services are becoming harder to access if people are not able to use the technology.
"But more importantly, it's critical that people can stay in touch with their family and community using the technology that's now available to them, if they so wish.
"Many of us take for granted the digital skills that we have but there are plenty of people around us who can benefit from us passing on those skills."
The participating cafés include Simply Delicious in Holly Park, Foxrock on Mondays between 4-5 pm, Mellow Fig in Blackrock on Tuesdays between 3-4 pm, Café du Journal (Monkstown) on Wednesdays between 3- 4 pm and Roast Office in Deansgrange Cross on Thursdays between 3-4 pm.