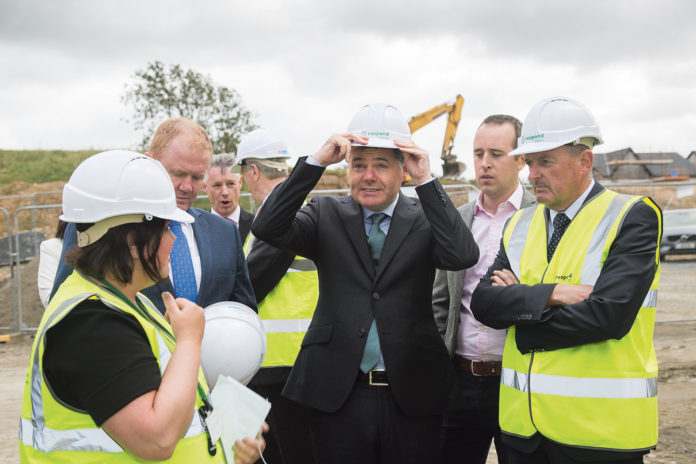 https://issuu.com/voicemedia6/docs/waterford_today_31-07-2019_alt
GIVE us the tools and we'll finish the job.
That was the message from Waterford to Finance Minister Paschal Donohue when he visited the city last week. "Sort out the basics and we'll take care of the rest," Patsy Carney of Eirgen Pharma told the minister.
Mr Carney and other business leaders spelled out just what the basics are:
A technological university
A functioning airport
Completion of the North Quays development.
without the TU, we will continue to struggle
Kathryn Kiely of Glazik Ltd told Mr Donohue that the international reputation of a university was critical for attracting talent to the region. She was backed by Waterford Chamber CEO Gerald Hurley. He said:
"When you have the like of James Mernin of Red Hat say that 94% of their interns have been hired but he can't scale that due to the lack of potential talent, it becomes all too clear that without the TU, we will continue to struggle in terms of delivering the growth and vision for Waterford under Ireland 2040."
In support of Waterford Airport, Brian Nolan of Sanofi explained that the company had a considerable number of people travelling in and out of London and other European cities each week. And Barry Downes of Sure Valley Ventures said: "Everything is just a little harder because you cannot catch a flight from Waterford."
Everything is just a little harder because you cannot catch a flight from Waterford
Mark Hennessey of Bausch + Lomb outlined the importance of the North Quays development for the future of Waterford, in terms of attracting talent, executive accommodation and quality of life.
The €400m FDI in the North Quays has the potential to deliver direct and indirect employment in the region of 6,500 jobs, not to mention a a huge boost to the Exchequer in terms of taxes, VAT and PRSI, Mr Hurley told the minister.
The meeting between Mr Donohoe and the business leaders was organised by Waterford Chamber. The minister was visiting the city and went to see a new Respond residential development in Kilbarry. It has 69 new homes including nine one-bed apartments, six two-bed apartments, 26 two-bed houses and 28 three-bed houses.
This project is in partnership with Waterford City and County Council, the Department of Housing and the Housing Finance Agency. It is part of Respond's National Delivery Programme with 1,086 homes currently under construction and on site.
"Waterford is very important to Respond," said Niamh Randall, Head of Advocacy and Communications at Respond.