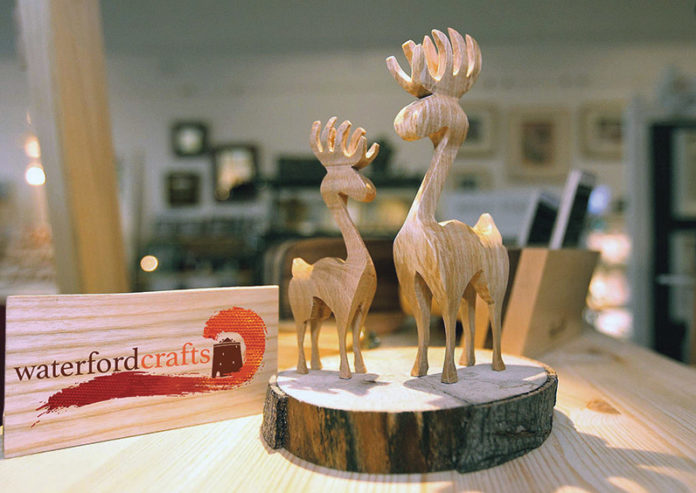 https://issuu.com/voicemedia6/docs/waterford_today_31-07-2019_alt
The dark nights are drawing in, the mornings are tinged with a touch of frost and the scent of cinnamon is suggestive of exciting times to come.  All thid heralds the return of the annual Waterford Crafts Christmas Craft Fair in Garter Lane.
This is the 36th year of this annual showcase of talent and, a voluntary run event which is filled with talent from all over the South East and beyond. All products are handmade, and hand-crafted with a special kind of care, love and attention and it is this passion that makes the Garter Lane Annual Crafts Fair so unique.
The Fair opens with a fabulous welcome offer of 10% off every purchase made on the first day. This year there will be an opportunity to "Meet the Maker" on Sunday 01 December. Here you can linger over a warming cuppa and chat with the crafts members, taste the delicious treats, and sample some of the natural skincare products. Find out where these talented crafts members get their inspiration from, browse their creations and learn about the people behind the stands.
"Meet the Maker"
Open daily from 29th November to 23rd December inclusively; the products this year are diverse and wide-ranging. From exquisite jewellery to stained glass, mosaics and crochet to porcelain art forms, beautifully soft velvet scarves to beeswax candles and tasty chocolates to delicate organic skin care the wares available are vast and cater to every need. Whether it's a Christmas gift for a loved one or a well deserved present for yours truly, there is an option for everybody covering every budget imaginable.
So come down and see us and get in the mood for Christmas. Open from 10am to 5:30pm Monday to Saturday and 12 noon to 5:30pm on Sundays, the Garter Lane Waterford Crafts Christmas Craft Fair extravaganza is open for business every day from Friday 29th November.
Don't forget to listen to the Breakfast show on WLRfm every morning from 1st December to the 6th December for a chance to win a daily prize of a 50 euro voucher.
For more information, visit us on social media @waterfordcrafts on Facebook, Instagram and Twitter.