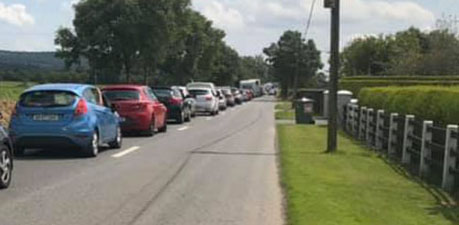 THE organisers of last weekend's sold-out All Together Now festival are thanking fans for their patience and understanding after long traffic delays getting to the venue.
Thousands of cars spent hours trying to reach the Curraghmore Estate in Waterford with AA Roadwatch earlier reporting "extremely long delays" all the way back to Carrick-on-Suir in County Tipperary.
In a statement, the organisers said: "We are aware of the delays in getting to this weekend's All Together Now Festival, and we would like to thank everyone for their patience and understanding.
"We have the pleasure of curating a festival on this incredible landscape, but with that comes challenges. The home of the festival, the Curraghmore Estate, was built in the 15th century, with a complex network of surrounding country roads.
"Every new festival faces challenges. Everything in terms of carpark, campsite and Main Arena opened on time today. The festival's organisers added that people were encouraged to use public transport and car-pooling systems.
"We appreciate people's excitement and expectations for this year's sold out festival and with today's brilliant weather many of you travelled early to get here."
Local journalist Martin Coughlin says that nobody in the town could understand why there was such an issue.
"People are getting out of the cars and they're running up to the doors of people's houses asking can they use their bathroom," said Mr Coughlin.
"They are being given cups of tea and cups of water and that by the local people.
A number of people said under no circumstances would they come back to this festival ever, ever again. They said they had "never experienced anything like it".