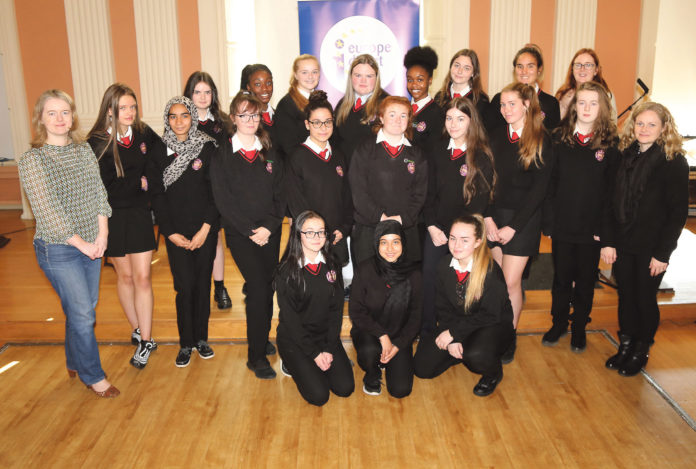 https://issuu.com/voicemedia6/docs/waterford_today_31-07-2019_alt
Secondary School Students from all over the south-east gathered in the impressive surroundings of the Large Room in Waterford's City Hall to battle it out to be crowned regional Europe Direct Soapbox champion recently.
Over 30 competitors spoke for three minutes on the topic Climate Change is not my problem with Orla Browne from Loreto Secondary School, Kilkenny declared winner on the day.
The competition judges; Mary Roche, Jim Lenane and Rev. Trevor Sargent commended the competitors on their high standards of public speaking as well as their engagement with the topic.
Three runners up Adrian Sliwa from Mount Sion CBS, Peter Jedro from St Mary's Academy CBS, Carlow and Shaiyda Abdul from Presentation Secondary School, Waterford each received a €50 Waterford Gift Voucher.
The competition is run by the Europe Direct Centre Network. As regional Under-18 winner Orla will receive an iPad and will go on to represent the south-east region in the National final in at the Royal College of Physicians of Ireland, No.6 Kildare Street on Wednesday 20th November where the overall winner will receive €1000 and a trip to Brussels.
Prizes are sponsored by the European Commission Representation in Ireland and local Members of the European Parliament. Waterford Europe Direct Information Centre will also host an open competition to send a regional over-19 winner to the final in Dublin. This will take place in Central Library on 13 November at 6pm and the winner on the night will receive an iPad and a place at the National Final. For more information or an application form you can email [email protected]
The term soapbox originates in the use of an empty crate as a platform by speakers to give speeches, often impromptu, to passers-by from around the turn of the last century. The most famous location for soapbox oratory is Speakers Corner in Hyde Park, London, which has been a setting for public speaking since the 1870s.
The Europe Direct Information Centre based in Central Library, Waterford City, is one of a network of local contact points that serve as the direct link between you and the EU Institutions. The centre offers information on all sorts of subjects related to the EU including your rights and opportunities as an EU citizen and how to take advantage of them. It can provide direct responses to general inquiries and, if you have more detailed questions, signpost you to the best source of information and advice at EU, national, regional and local levels.