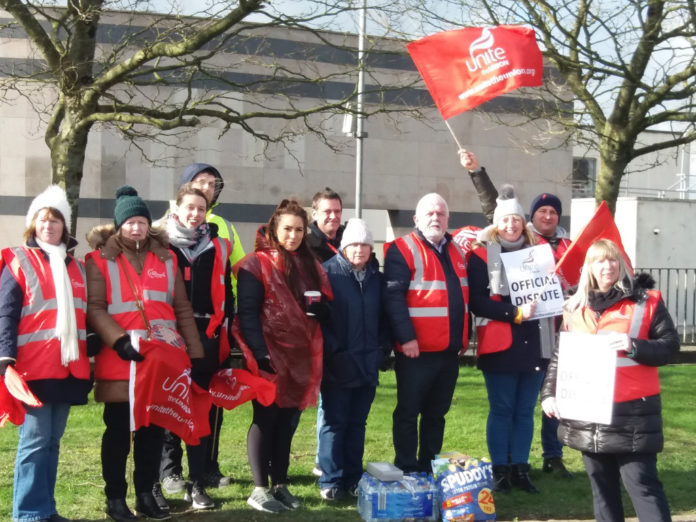 https://issuu.com/voicemedia6/docs/waterford_today_31-07-2019_alt
A DISPUTE is threatening to bring chaos to University Hospital Waterford. More than 125 Unite members, who work for the cleaning services provider Momentum, have been on strike since 25 February.
Now their union, Unite, is threatening to spread the action beyond the company which handles cleaning on an outsourced basis. The union, which represents all support staff at UHW, announced that it will be balloting members directly employed by the HSE for industrial action.
The threatened escalation of the dispute to include members directly employed by the HSE follows the HSE's application to the High Court for an injunction against HSE employees who have refused to pass the pickets placed by their colleagues working for Momentum.
The dispute centres around changes to workers' conditions introduced by Momentum after it took over the provision of cleaning services at the hospital from another company, ISS. Most cleaning workers at the hospital transferred from ISS to Momentum, which was their legal entitlement.
the HSE decided to aggravate the situation by seeking an injunction against Unite members
Unite Regional Officer Tony Kelly was critical of the HSE.
"Rather than instructing Momentum to abide by accepted industrial relations procedures and desist from imposing unilateral changes to our members' conditions, the HSE decided to aggravate the situation by seeking an injunction against Unite members working for the HSE who refused to pass pickets placed by their Momentum colleagues," he said.
He said the HSE now had a choice.
"They can withdraw their application for an injunction and instead instruct Momentum to abide by normal industrial relations procedures – or they can continue adding fuel to the flames and provoke industrial action by all support staff in University Hospital Waterford."
Sinn Féin TD for Waterford, David Cullinane, has called on cleaning service provider Momentum to fully engage and consult with the Unite union. The workers have also received support from People Befofre Profit.
Mr Cullinane, who joined porters, laundry staff and cleaners on the picket line at UHW, said: "The HSE need to intervene to ensure fair procedure and fair treatment of staff."
bottom-feeding cleaning companies undercut each other to win contracts
Una Dunphy of People Before Profit also joined the picket line. She said: "People before Profit condemns the practice of outsourcing of public services to bottom-feeding cleaning companies, who undercut each other to win contracts. They then squeeze the terms and conditions of employees in order to remain profitable."
Tony Kelly has accused Momentum of seeking to impose changes to working conditions without consultation. "Our members have suddenly found themselves assigned to different work areas and tasks without either consultation or explanation, contrary to long-standing practice," he said.
Ms Dunphy said the dispute "involves a mainly female workforce on low pay, excluded from the benefits of direct employment by the HSE, their former employer.
"These employees are the people who ensure the operating theatres, isolation rooms and other vital areas are cleaned to a high standard, so medical staff can carry out their vital work."
She said the cleaners had widespread support across Waterford and the South East.