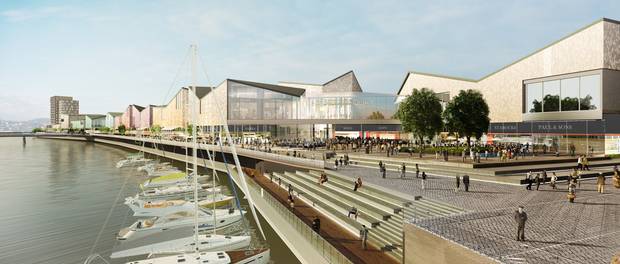 https://issuu.com/voicemedia6/docs/waterford_today_31-07-2019_alt
A PLANNING application for Waterford's North Quays development will be lodged this month. The announcement by Falcon Real Estate Development Ireland comes amid speculation that the huge project could be scaled back or abandoned altogether.
It has been welcomed by politicians and the Chamber of Commerce which said the speculatation "can now be put to bed and we can move forward". However, it may not all be plain sailing for the €350m project. The investors, Falcon Development, are carrying out a "review" of the development and there are concerns that the ambitious project may be cut back.
Waterford council's CEO, Michael Walsh, told city and country councillors: "There has been considerable speculation souurounding progress in respect of the North Quays project and there have been delays in recent months that are unfortunate but equally necessary for a project of this scale and complexity."
imperative that the planing application is appropriately aligned to meet market demand.
In a letter, seen by the news website WaterfordNow.ie, Mr Walsh said Falcon has undertaken "a full review of the details of the North Quays development, it being imperative that the planing application is consistent with feedback from the market place, and appropriately aligned to meet market demand."
The North Quays development could bring a major economic boost for Waterford and the South East. The total estimated investment is estimated to be €350 million, phased over three to five years. It could create 2,300 full-time jobs with an additional 4,500 indirect jobs.
Falcon last week confirmed that a planning application will be lodged with the council this month.
Commenting on the announcement, Gerald Hurley, Waterford Chamber CEO, said: "There has been a lot of speculation and uncertainty around the North Quays in recent months, so following this announcement, it is encouraging that this can now be put to bed and we can move forward."
Subject to the granting of planning permission, work on the project is likely to start by the fourth quarter of 2020.  Included in the project will be a 13-storey, 200 bedroom hotel and conference centre; a mixed-use commercial building including tourism, retail, food and drink businesses.