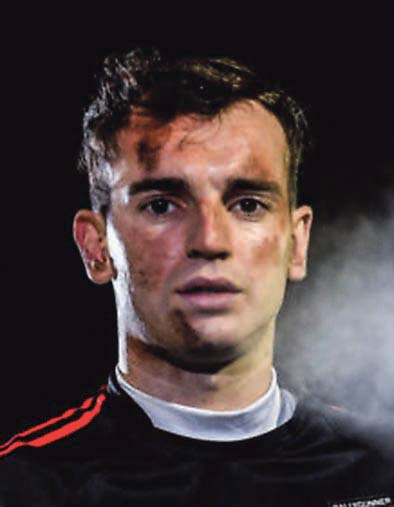 https://issuu.com/voicemedia6/docs/waterford_today_31-07-2019_alt
DESSIE Hutchinson has set aside his dreams of stardom as a professional footballer in England's Premier League.
Now he is looking for success in another code. He was part of the Ballygunner team which won its sixth Waterford senior hurling title in a row by beating De La Salle.
Hutchinson (pictured) scored 1-3 from play for a team which also featured his two brothers, JJ and Wayne.
The former underage hurler, joined Brighton as a 16-year-old but, despite captaining the club's Under-23s and playing for Ireland Under-19s, he made only one senior appearance under former manager Chris Hughton.
The collapse of a loan move and an unfortunate injury led to his release in May 2018. Hutchinson rejoined Waterford FC, helping his hometown club to top-four finish in the Premier Division. But the failure to realise his soccer dreams meant that he had fallen out of love with the game.
I trusted what I was going to do and went with that.
"I did, definitely," he told RTE's Game On. "It probably comes down to the changeover, being at such a high professional club, and then coming back to the League of Ireland.
"The standards, they do drop a lot. That's no disrespect to the League of Ireland, the Premier League is the biggest in the world, you're not going to get it here."
Hutchinson says his debut with Brighton – in an EFL cup match against Bournemouth – was the biggest game of his career.
But, asked about his proudest day in sport, he said it was the county hurling final.
"It was unbelievable," he said at the launch of the AIB Club & Camogie Championships.
"It was strange because it was my first one but other lads were going into a sixth final in a row. So it was strange, but I was keeping to myself and worrying about my own game. The lads had that experience whereas I didn't. I trusted what I was going to do and went with that."
He said he had kept up his hurling during his time with Brighton and with the Blues.
"I was always pucking away. In the summers when I came home," he said. "I was always in the field or, around Christmas, there was always a long puck or something on. I was always tapping around so I never really lost the touch. It was just the game situations that I had to get back used to."