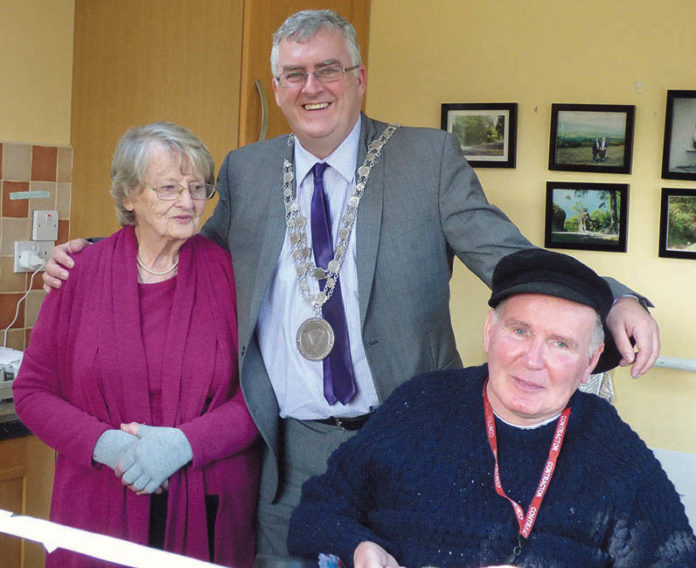 https://issuu.com/voicemedia6/docs/waterford_today_31-07-2019_alt
PAULINE Mhic Parthalán is Waterford's Carer of the Year and, at the age of 92, probably the oldest carer in Ireland.
Waterford's Mayor, Cllr. John Pratt, recently visited Pauline at her home in An Rinn where she cares for her son, Joe.
"I deeply admire the work ongoing every day of the year across Waterford city and county by carers and I felt it was important that the office of mayor be associated with Pauline's achievement – as much for recognition for everyone involved in caring, as saying a particular go raibh maith agus comhgháirdeachas,"said Cllr Pratt.
I deeply admire the work of carers
Pauline was born in An Rinn in 1928 when, as she explained to the Cllr Pratt, her neighbour and grandaunt, Margaret Power, was married to the then Mayor of Waterford city, Edward Walsh.
She trained as a nurse and served in Dublin and New York where she met her husband Joe McPartland, and returned with him to his native Belfast.
Their son was diagnosed with MS, and following her husband's death, Pauline returned to An Rinn in 2004 to care for Joe Jnr.
She was recently honoured with the Netwatch Waterford Carer of the Year Award, presented to her by Irish rugby legend and All Ireland winning Kerry footballer Mick Galwey at a special ceremony in Waterford's Garter Lane Arts Centre.