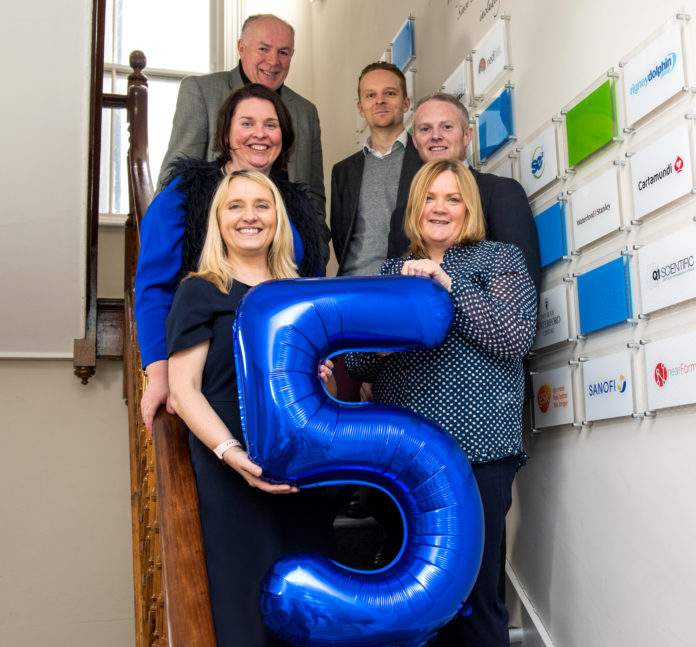 In 2014, the then Minister for Jobs, Enterprise and Innovation Richard Bruton TD officially opened the new Local Enterprise Office Waterford on The Mall.
The Minister stated that the Local Enterprise Office "will deliver more services and better services to the start-ups and small businesses across the county that we rely on to create the jobs we need, with more staff and more funding", and five years on the Waterford Local Enterprise continues to support and help businesses grow throughout the city and county.
Since 2014, 642 new jobs have been created by LEO supported companies and LEO Waterford has provided almost €3 million worth of financial assistance to 164 companies.
The enhanced range of business support services introduced in 2014 has been well received and LEO Waterford continues to provide investment and resources and develop programmes for start-up and established businesses.
Richie Walsh, Head of Enterprise at Local Enterprise Office Waterford said the demand for services has grown significantly and this is a reflection of the resilient entrepreneurial spirit in Waterford. "The uptake on participation in training programmes and mentoring has increased year on year since 2014. We've seen the number of participants on training programmes increase by almost 200%, while 95% more clients are availing of mentoring services since 2014."
"Supports such as business training, grant assistance, and enterprise education have a positive impact on start-ups and small businesses. By providing highly practical services and resources to make the entrepreneurial journey a little less fraught, LEO Waterford is in the business of helping start-ups to get off the ground."
One such local company to avail of LEO support back in 2014 is EveryEvent, an award-winning event production company, that lends creativity and the wow-factor to festivals and events throughout the country.
John Grubb, Director of EveryEvent said that the supports from Waterford LEO, particularly at the start of their journey was a major boost to the company. "Back in 2014, EveryEvent was just a concept and it was the input and assistance from Waterford LEO that helped us realise its true potential."
"For a young company like ours to have not just financial assistance, but a wide range of business support services available to us, was a huge vote of confidence in our business and gave us the impetus to grow."
National initiatives launched in 2014 which continue to grow each year include Ireland's Best Young Entrepreneur competition, Local Enterprise Week, the National Enterprise Awards and Women's Enterprise Day.
Richie Walsh added, "These flagship events give us the opportunity to engage with those who are thinking of starting a business, in start-up phase or already established in business and offer any assistance we can to help them grow and "make it happen."
If your business in pre-start, start-up or established business phase and would like to find out more about what business support services are available from LEO Waterford visit www.localenterprise.ie/Waterford/