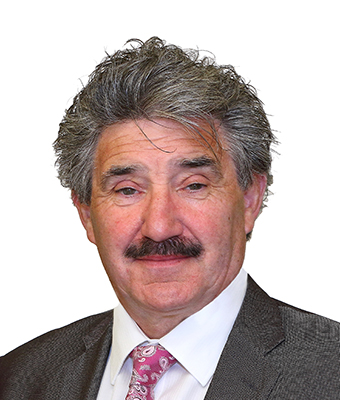 https://issuu.com/voicemedia6/docs/waterford_today_31-07-2019_alt
POLITICAL veteran John Halligan may not contest the General Election on February 8. The Waterford Independent TD and Minister of State is reported to be "seriously contemplating retirement".
A source close to the minister said he would he would reveal his decision soon. The local news website WaterfordNow.ie quoted the source as saying: "There is nothing official yet. He will meet with his election team during the week and discuss it with them first. They will make a statement later in the week one way or the other."
If Mr Halligan withdraws it will add further uncertainty to a very open contest in Waterford.
Sitting Fine Gael TD John Deasy announced late last year that he would not be seeking re-election. His party and constituency rival, the senator and former junior minister Paudie Coffey, also announced his intention to step away from politics. So Mary Butler (FF) and David Cullinane (SF) could be the only sitting deputies contesting the election here.
Mr Halligan was first elected to the Dáil in 2011. He held his seat at the 2016 General Election, increasing his first preference votes by more than 50%. He was appointed Minister of State for Training and Skills.
no way to run our public health services
As candidates prepare for battle, it is clear that health will be the major General Election issue in the Waterford constituency and a row has developed over public funding for beds in a private nursing home.
Mr Cullinane said that that due to bad planning of acute health care, brand new acute bed wards at University Hospital Waterford lie empty while €240,000 of public money is spent purchasing acute beds in the CareChoice private nursing home in Dungarvan.
"In the case of University Hospital Waterford, it did not have the staff available to open any new beds. This is despite over 60 new single isolation room beds lying idle in two wards in the Dunmore Wing," he said.
"Instead, hospital management had to draw down the funding and purchase 30 beds over a two-month period in a private nursing home at a cost of €240,000. This is no way to run our public health services."
The Labour Party's candidate, Waterford mayor John Pratt, called for better planning and a commitment to invest in public heath services "instead of relying on short term extra beds in private nursing homes."
this can't only be a temporary measure
But Fianna Fáil TD Mary Butler welcomed "the initiative shown by University Hospital Waterford in block booking 30 beds in Care Choice nursing home Dungarvan to provide step-down facilities to patients."
The deputy has long been calling for the provision of step-down facilities. She said this is a cost-effective way of dealing with delayed discharges and will alleviate the massive pressure on the acute hospital network which is heavily overcrowded at present..
"In this instance the 30 beds are block booked for three months, and while this will take pressure off the hospital during the flu season, this can't only be a temporary measure," said Ms Butler.
She warned: "Step down facilities and the correct wraparound service has to be an ongoing practice and cannot be for just three months of the year."