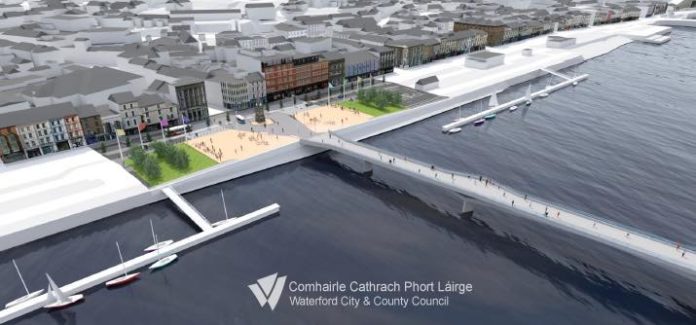 https://issuu.com/voicemedia6/docs/waterford_today_31-07-2019_alt
THE ambitious North Quays development project has moved nearer with the allocation of €12.6m towards necessary infrastructure.
The money will be mainly spent on a new bridge to connect the South Quays and the North Quays development zone, with a transport hub replacing Plunkett rail station.
The boost came as Waterford was named one of Europe's best small cities for investment.
The influential Financial Times newspaper put Waterford in the top 10 list in three categories: European Micro Cities of the Future (8th), European Micro Cities with the greatest Economic Potential (5th) and European Micro Cities with a defined Foreign Direct Invertment strategy (7th).
The newspaper also said the South East was one of the top 10 regions in Europe for economic potential.
Its Foreign Direct Investment Report said:
"Ireland South East is crowned the winner among small regions, with the Ireland South East Development Office (Isedo) established in 2018 to promote investment into the region's five counties … Carlow, Kilkenny, Tipperary, Waterford and Wexford.
"Isedo is well positioned for open channels of engagement and communication around investment opportunities."
The €12.6m North Quays funding is part of a €15,175,000 allocation from the National Transport Authority towards the city's transport infrastructure. The rest will be spent on an extension of the greenway, from Bilberry to the city centre, and other transport schemes.
The city and county council hopes to clear final planning hurdles in the coming weeks.
The funding is part of a €100m Government commitment and further allocations are expected over a three to five-year period.