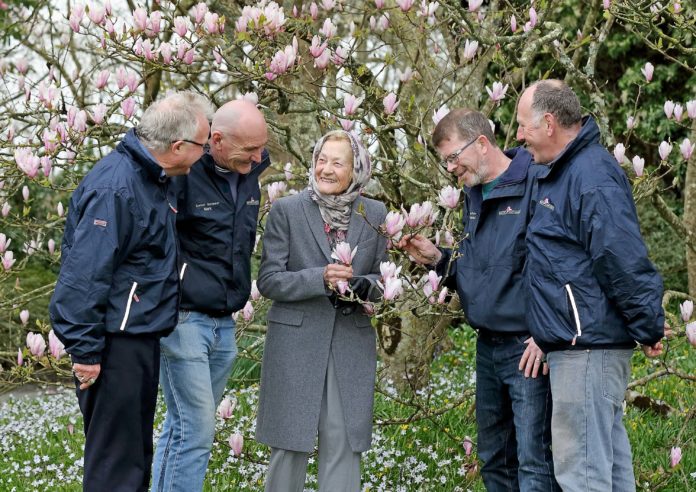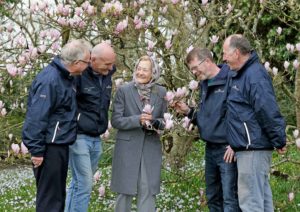 A jewel of the gardening world, Mount Congreve Gardens in Waterford which hosts one of the largest private collections of plants in the world including a magnificent 200 Magnolia Tree canopy walkway has officially honoured the designer of the famous garden walk.
An official renaming ceremony in order to honour the Magnolia walk designer Mr Herman Dool took place with the Dool family at Mount Congreve on Friday, March 22nd 2019. Mr Dool was the landscape architect responsible for the layout and development of the world famous Mount Congreve Gardens including the Magnolia walk set in the middle of the 70-acre garden. Present at the event was the wife of the late Mr Dool, Mrs Ina Dool with her sons Elmer and Ron and daughter Jantine Dool-Bible, her grandchildren Melanie and Amie and great-grandchildren, Noah, Caleb Dool. Mrs Dool was honoured to withness the occasion of the rededication of the Magnolia walk way to her late husband. She said,
"I love being back here at Mount Congreve and I am delighted to be here especially for this occasion; it is somewhere I that I love and know so well, I could quite easily find my way around these gardens blindfolded."
In the early 1960s, Herman Dool took up his position at Mount Congreve and was Garden Director for almost 40 years creating, with Ambrose Congreve, masterful work on what has been hailed by the Horticultural Society of Massachusetts as "One of the Great Gardens of the World".
By design, Mr Dool never placed any less than 25 plants of a variety because according to him the mass planting makes the proper statement when the garden matures. And this has truly been the secret behind the spectacularly colourful arrays at Mount Congreve Gardens. Mr Hermann Dool received the Orange Order of Nassau from the Queen of Holland, the equivalent of a British Knighthood, for his achievements. He died in 2004.
Spectacular plantings of magnolias can be found in the garden: the first and original planting on the terrace below the house is Magnolia campbellii, Magnolia veitchii and Magnolia sprengeri var diva among others, all now mature and impressive trees. This planting is best viewed from an elevated spot near The Temple where one can look along the top of the canopy and see magnificent planting.
A straight walk downhill of approximately 150 metres with a view to the River Suir and beyond to County Kilkenny, the Magnolia Walk is lined on both sides with Magnolia soulangeana backed by the taller Magnolia campbellii and Magnolia sargentiana var. robusta. The grass verges are planted with Frittilaria meleagris, the Snakeshead Frittilary, and Primula veris, the cowslip. The result is an extraordinary array of colour and scent.
Mount Congreve is one of the largest private collection of plants in the world. The Gardens are open to the public year-round, for further details and to plan your visit see www.mountcongreve.com