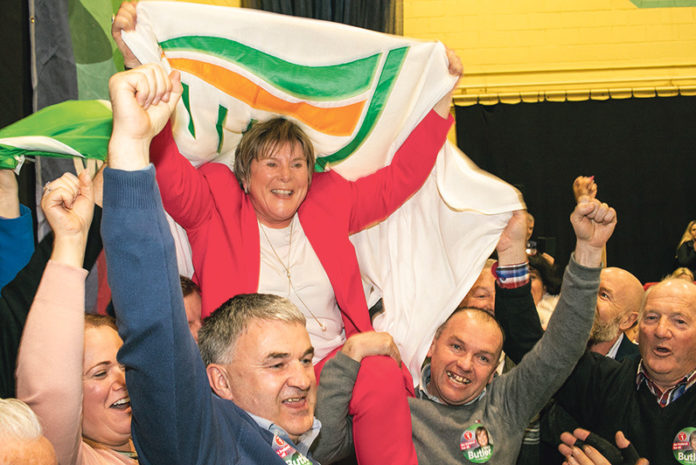 https://issuu.com/voicemedia6/docs/waterford_today_31-07-2019_alt
DAVID Cullinane of Sinn Fein topped the poll in Waterford with 20,569 first preference votes.
Mary Butler (FF) got 11,233 first preference votes. Ms Butler (pictured celebrating, photo: John Power) was elected on the seventh count.
Cardiac-care campaigner Matt Shanahan was also elected on the seventh count with 10,708 first preferences.
Marc Ó Cathasaigh (Green) had 9,738 first preferences and was also elected on the sevenh count.
Mr Ó Cathasaigh, a teacher from Tramore, began the count several hundred votes behind Fine Gael's John Cummins and Damien Geoghegan, but a surge of transfers from People Before Profit's Una Dunphy helped him over the line.
The seventh and last count saw Mr Ó Cathasaigh see off a late challenge from Mr Cummins, who picked up 2,597 transfers from Mr Geoghegan's 5,549 votes.