https://issuu.com/voicemedia6/docs/waterford_today_31-07-2019_alt
THE Minister for Agriculture, Michael Creed TD, is being called upon to intervene as hundreds of farmers continue to picket meat-factories in the South East and across the country.
Fianna Fail's Agriculture Spokesperson Charlie McConalogue TD said the crisis affecting the sector was continuing to worsen as beef prices continued to fall. Beef farmers are on their knees and the Government could not just sit back and watch from the side-lines, he said.
The Minister must roll up his sleeves
"It's high time the Minister for Agriculture became engaged and tried to address the growing crisis in the Beef sector," he said. "This week has seen rolling protests by the Beef Plan Movement at factory gates across the country as well as protests by the IFA. The Minister must roll up his sleeves and seek to address the frustration that has led farmers to the picket lines this week," Deputy McConalogue said.
Meanwhile, the IFA's Livestock Chairman said a 'sweet-heart' deal between the EU and the US was another hammer-blow for Irish farmers. Angus Woods said the non-hormone beef quota announced by Donald Trump was a "backdoor arrangement" which would further undermine beef prices.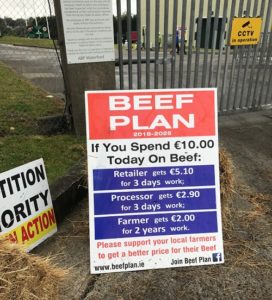 "The announcement of the deal has come about because of the Mercosur trade deal which was agreed a couple of months back," Mr Woods said. "Ultimately, it's going to end up with significantly more non-European beef on the European market place further depressing European beef prices," he explained.
At the weekend Beef Plan Movement protesters were being warned not to react to what its co-chair Hugh Doyle described as "deliberate goading". In a video message last Sunday morning, Mr Doyle said there had been a "sea change in the tact regarding the various factories we are picketing at".
obey the guidelines, listen to your stewards, don't allow yourself to be goaded
"They are deliberately trying to goad us into doing something that they can gain evidence in order that they will be able to injunct us at a later stage, so I am appealing to all farmers that are at these pickets – obey the guidelines, listen to your stewards, don't allow yourself to be goaded."
Mr Doyle claimed that there was a 27% drop in national kill last week as a result of the Beef Plan Movement protests, and that 70% or more of farmers are not bringing their cattle to factories. He also said that factories are eating into their feedlot supplies. "Stand with us, we will re-strategise," he urged protesters.
The Beef Plan Movement's southwest chair Dermot O'Brien told the Irish Farmers Journal that farmers have been hurt and injured. "A small minority of lorries have lost their cool, driving at speed at farmers and this is completely unacceptable."