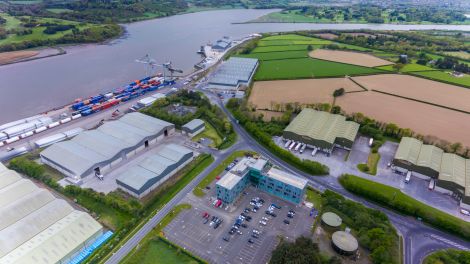 https://issuu.com/voicemedia6/docs/waterford_today_31-07-2019_alt
A NEW shipping route from Waterford has been hailed as providing a way for Irish exporters to beat the worst aspects of Brexit.
The new route to Rotterdam will provide extra capacity, allow market diversification and bring extra empty containers into Ireland, where they are needed.
Sailings began last week on the route which is being operated by Dutch company, BG Freight Line, in partnership with multi-national container shipping giant, Maersk. It is hoped that the investment will encourage other shipping firms to consider using Waterford and may prove a big boost for the port. Executives from the Port of Waterford and Maersk have been meeting business leaders to outline details of the new route and the opportunities it will provide.
BG Freight Line's deep sea feeder vessel will run a weekly service from Waterford to Rotterdam, increasing capacity for goods travelling to mainland Europe and then on to global markets. The new route will provide extra capacity and will be very useful for agri-food companies keen to get their product to mainland Europe.
good news for exporters in the southern half of the country
The sailings were welcomed by the Irish Exporters Association. Its Chief Executive Simon McKeever said the journey is only slightly longer than using the UK landbridge.
The route of the container ship will be from Rotterdam to Liverpool to Waterford and then directly back to Rotterdam On the inward journey it will bring extra empty containers to Ireland, where there is a shortage. Shipping directly into Rotterdam, which is an amalgamation port, will promote greater market diversification, said Mr McKeever.
Rotterdam port offers shipping and rail connections to Asia, Africa and South America. The rail spur at the port will allow greater capacity to move freight by rail with direct train links from Rotterdam, right across Europe and into China.
Green Party MEP Grace O'Sullivan welcomed the new route. "The opening up of this trading corridor is good news for exporters in the southern half of the country," she said.