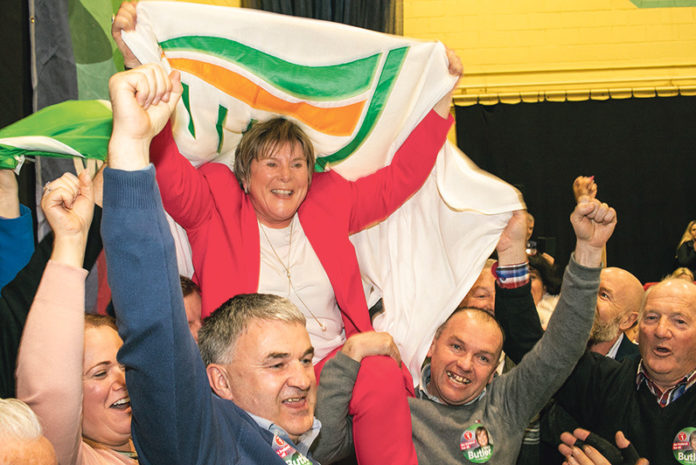 https://issuu.com/voicemedia6/docs/waterford_today_31-07-2019_alt
FIANNA Fáil TD Mary Butler has admitted to "a huge error of judgment" in allowing former junior minister Brendan Kenneally, who is the cousin of paedophile Bill Kenneally, to canvass on her behalf during the general election.
And she has said she will be leaving her constituency office at Waterford city's Waterside, which she rented from the former minister.
Ms Butler has also claimed that she has been "victimised" since her re-election and that attempts have been made to link her with Bill Kenneally for political reasons.
sustained and co-ordinated campaign of online hate and harassment
It is the latest turn in a controversy which has been running since February 11 when Ms Butler issued a statement saying she had been subjected to a "sustained and co-ordinated campaign of online hate and harassment" and that a fake Facebook profile had been created to smear her.
Bill Kenneally was sentenced to 14 years in prison in 2016. Brendan Kenneally was made aware in 2002 of his cousin's abuse of underage boys in Waterford but didn't inform gardaí. The former minister, who was not in any way involved in the abuse, has said he did not report the crimes because the victim "did not want it to go any further".
Last week Ms Butler told Damien Tiernan on WLR that she made an error of judgement and that she'll no longer rent an office from Brendan Kenneally, nor will he be part of her canvassing team again.
She said that, in renting the office, she "hadn't foreseen the enormity of the hurt and anxiety" caused to the victims, whom she offered to meet privately.
I can't understand why I'm being victimised
The TD denied she was acknowledging the hurt now only because she had "been caught out" and revealed she would vacate the office "within 14 days".
A laughing emoji appeared on Ms Butler's Facebook page beneath a comment made by one of Bill Kenneally's victims. The TD said the page was faked, and gardaí are investigating.
She claimed screenshots taken of the faked image are part of a co-ordinated social media campaign to undermine her . In another interview she described the screenshots as being part of a "sophisticated and highly co-ordinated effort" against her.
"I've never met Bill Kenneally in my life and I can't understand why I'm being victimised in this way," she told the Munster Express.
She said she has been receiving "horrific" abuse on Facebook in recent weeks, and added that her 22-year-old's daughter's Facebook page was "targeted" after Ms Butler suspended her own account. She said her daughter's account has also now been suspended.