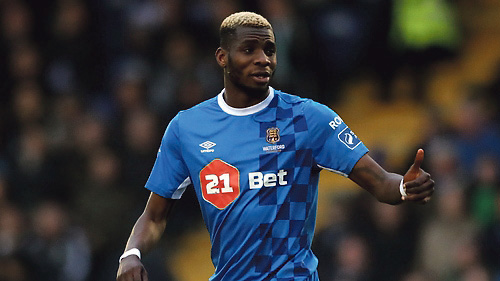 WATERFORD striker Ismahil Akinade faced deportation but decided to leave Ireland voluntarily.
He was believed to have gone to Nigeria, which is his native country although he has lived in Ireland for most of his life. But he amazed football followers by turning up in Vietnam and appears to have signed for a League One side, Ho Chi Minh City.
The Blues issued a statement last week, saying Akinade had left and thanking him for his services. But it later emerged that he faced deportation under an order made in March 2016 because he had committed "a serious offence".
He was due to present himself at the Garda national immigration bureau on June 13 but failed to attend. Lawyers for the State were trying to establish officially that he had returned to Nigeria. But he emerged on the Vietnamese club's Facebook page, telling fans: "My first training session was quite intense … it was nice to get to know the guys and the coaching staff. It's good to know the ambition of the club. We're looking to win the league this year".
Akinade was plunged straight into action for the club, scoring the second in a 3-3 Vietnamese Cup draw with The Cong. Ho Chi Minh won the tie 4-3 on penalties.
Izzy Akinade joined Waterford FC from Bohemians ahead of the 2018 Airtricity League season. He scored eight goals for Waterford, helping them to finish in fourth place.
He signed a contract last June to remain with the club until the end of this season.
Akinade was born in Nigeria in 1994 and arrived here as a seven year old in 2001. His mother and siblings are Irish citizens by naturalisation.
The High Court was told Akinade had leave to remain in the State as a dependant of his mother until he reached 16 years in 2010.
After that, he received permission in his own right for successive periods until mid-2014. That year he was convicted of a serious criminal offence and was informed in 2015 that the justice minister planned to make a deportation order against him. His solicitors made representations against the order, but it was made in March 2016.