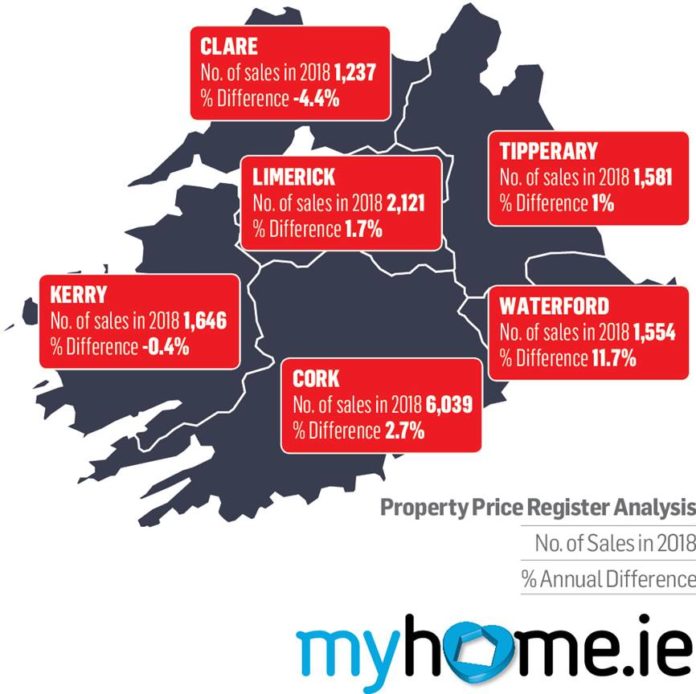 THE housing market in Waterford has taken a steep upturn, the latest figures show.
The figures are for 2018. They show that residential property sales in the city and county increased by 11.7% – the biggest increase in Munster.
The level of residential property sales in Munster increased by 2.2% in 2018 to 14,178 according to an analysis of the Property Price Register carried out by property website MyHome.ie This means that property sales in Munster accounted for 25% of total national sales of 56,836 last year.
While the number of sales may have risen by a relatively modest amount, the total value of property sales in the province increased by a much higher percentage, rising by 17% to over €3bn. Although the number of sales rose in most counties, sales fell in Clare by 4.4% and by 0.4% in Kerry.
The number of property sales in Cork in 2018 increased by 2.7% to 6,039. This is 42.6% of total sales in Munster and over 10.6% of national sales which totalled 56,836.
The number of property sales increased by 11.7% in Waterford, easily the biggest increase in the region, although this is off a relatively small base.
As a result of that jump the county also recorded the biggest increase in the value of sales, the figure rising from €214m to €272m, an increase of 27.5%.
The value of Cork sales also increased dramatically, rising from €1.36bn to €1.63bn, an increase of just over 20%, while the value of sales in Limerick rose by 20% from €345m to €412m.
The Managing Director of MyHome.ie, Angela Keegan said the figures reflected Cork's economic strength and a general move towards increased urbanisation.
"Cork – and to a lesser extent Limerick and Waterford city – have been quite successful in attracting investment and higher-paid jobs," she said.
"As a result, cities are where people increasingly want to live and if they can't live there due to the lack of affordable housing, they tend to move to the commuter belt.
"In contrast we saw a drop in sales in many western counties, including Clare and Kerry."
"The increase in the volume of sales in Waterford in particular is encouraging as indeed is the increase in sales across the province as it shows the market is continuing to
recover."