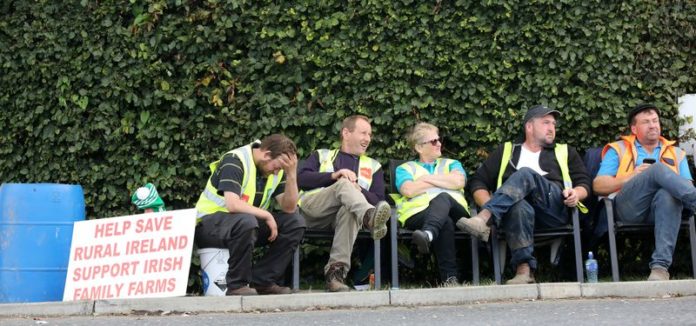 https://issuu.com/voicemedia6/docs/waterford_today_31-07-2019_alt
THE High Court has granted a permanent injunction stopping farmers blockading some meat processing plants including the plant at Grannagh, Co Waterford.
The order means the protesters can't prevent trucks moving in and out of any Dawn Meats plants, which are also in Laois, Mayo, Cork and Meath.
As Waterford Today went to press, pickets were still outside the Grannagh plant and the ABP plant in Ferrybank but they said the injunction was being respected.
The High Court was told permanent orders restraining trespass and intimidation could be made with the consent of named protesters who had taken part in beef-price protests at Dawn Meats factories. Similar orders were made, on consent, against protesters blockading plants owned by ABP and Slaney Meats.
Mr Justice Charles Meenan was told a compromise had been reached between named protesters and Dawn Meats, ABP and Slaney Meats, companies that had earlier obtained temporary restraints against protesters blocking their plants.
The orders restrain them from interfering with access to or egress from Dawn factories.
Lyndon MacCann SC, for Dawn, said a motion seeking to commit to prison protester Séamus (otherwise Mex) Delahunty, of Mooncoin, Co Kilkenny, could be struck out by consent. He said orders permanently restraining Mr Delahunty and Declan Ryan, Liam Cunningham, James Kennedy, John Hassett, Michael Power, James O'Shea and Tom Fitzpatrick could be made by the court by consent of the named defendants, with no orders for costs.
The orders restrain them from interfering with access to or egress from Dawn factories.
Farmers are unhappy with the price they are being paid by factories for cattle they present for slaughter.
A delegation of Chinese inspectors has failed to gain access to the Kepak meat plant in Athleague, Co Roscommon, after a protest outside the facility meant the visit did not go ahead.
Inspectors have been visiting meat plants to approve them as exporters to China.
The delegation was due to carry out a systems audit as part of an Irish application to export sheep meat to China, but the audit did not take place.
Currently, Ireland does not export sheep meat (lamb) to China.