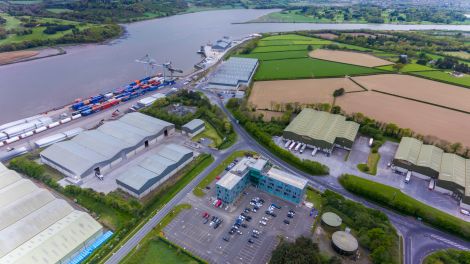 SHIPPING at the Port of New Ross is to be run by Belview Port in Waterford, in a controversial move planned by Wexford County Council, according to the Director of Services for Economic Development, Tony Larkin, who made the announcement at the first meeting of the new Wexford County Council.
In an update to councillors ahead of the imminent transfer of the port from the state to Wexford County Council, Mr Larkin said: ''We are taking over the operation of the port. We have been in due diligence for two years."
Mr Larkin said he was told earlier that the takeover process has been completed, save for three ministers signing the document which will formally allow the transfer.
"The process of having the ministers sign it has now commenced. Immediately upon transfer all assets and staff will transfer to us and we will have responsibility as the port authority. We are not in the shipping business. We are in discussions with the Port of Waterford at Belview about them acting as our agents managing the shipping for a fee."
Cllr Michael Whelan expressed reservations about control of the port going to Waterford.
An obvious concern we had was that maybe shipping would go to Waterford
"Are there not positives in this and room to develop the port? An obvious concern we had was that maybe shipping would go to Waterford."
Chairman Cllr Michael Sheehan said the removal of the oil tanks was a key priority for the town. He asked about the commercial viability of the port, which was once the main importer of wine in Ireland and busier than Dublin port.
Mr Larkin said: "We are looking, along with the Port of Waterford, for opportunities to make efficiencies where there is duplication at the minute. The commercial management (of New Ross Port) would be the responsibility of Waterford."
He said the possibility of New Ross business growing in any was limited, as the size of vessels using the port was restricted to 4,500 to 5,000 tonnes.