STUDENTS, parents and staff of Bunscoil Loreto primary school in Gorey recently formed a human chain, passing a petition from the gate of the school to Gorey Community School Principal Michael Finn who took delivery in front of local media.
The human chain was a peaceful prfotest over changes to the enrolment policy of Gorey Community School whereby students of Bunscoil Loreto, the neighbouring primary school, are no longer guaranteed a place in Gorey Community School.
Children, parents and staff lined St Michael's Road and Esmonde Street passing the petition from 850 participants in a show of togetherness and strength and highlighting the links and proximity between the two schools.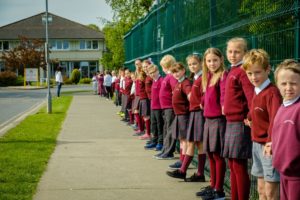 The Principal of Bunscoil Loreto, Aileen Kennedy, thanked parents and staff who had supported the event and said  "Historically, the two schools have enjoyed very close links and have established a very positive working relationship.
Many children in Bunscoil Loreto would not have the means to access schools outside of town
"We are strongly urging the Board of Management of Gorey Community School to reconsider their decision and  to reinstate Bunscoil Loreto as the main priority feeder school."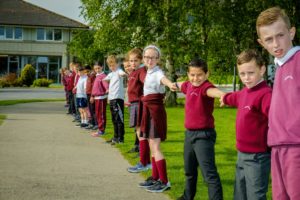 Bunscoil Loreto Parent Association Secretary Sinead Fox said: "Parents who enrolled our children in Bunscoil Loreto had the legitimate expectation that our children would be guaranteed a place in Gorey Community. Many children in Bunscoil Loreto would not have the means to access schools outside of town."