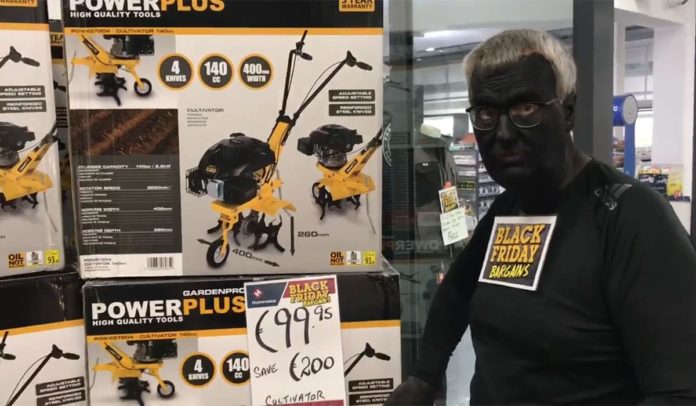 A WEXFORD hardware store has had a complaint upheld against it by the Advertising Standards Authority of Ireland (ASAI) after the committee found it "raised concerns of racism".
In total, 13 of 16 advertisements subject to complaints were found to have been in breach of the ASAI code on grounds relating to Misleading Advertising, Health and Beauty, Nutrition and Children.
The Black Friday ad for the shop in Enniscorthy featured a man dressed in black, with his face and hands painted in black, flicking his tongue at the camera before proceeding to explain what products were offered on sale. The video concluded with the man flicking his tongue again.
The complainant thought that Smyth's Homevalue had run a racist ad and were selling goods using racism.
rejected the assertion that the video was intended as a racial slur
In response to the complaint, the business owner said they had run the ad in conjunction with the world wide Black Friday event.  They claimed they took inspiration from the recent Irish victory over the All Blacks, as the shop owner wore a full All Black kit in the controversial video and painted their face and hands black too.  They said that the tongue flicking was meant to represent actions from the Haka.
When it came to their attention that some people found the ad offensive, they said they removed it immediately and posted on their Facebook page to clarify that the ad was not intended to cause offence.  The advertisers also added that as a family business "believed in respect for all people regardless of gender, nationality, colour, creed, or sexual orientation and they abhorred any action that disregards that" and while they "rejected the assertion that the video was intended as a racial slur", they acknowledged the misunderstanding it had caused and vowed to ensure they avoided offence in future.
The complaints committee deemed that although the shop had not meant to cause offence, the ad did give rise to concerns of racism with the darkening of the man's complexion without context.
It also said the had not been responsive to the diversity in Irish society and that it had breached Section 3.17, 3.19 (b) and (c). As the ad was removed immediately no other action was needed. The verdict was upheld.