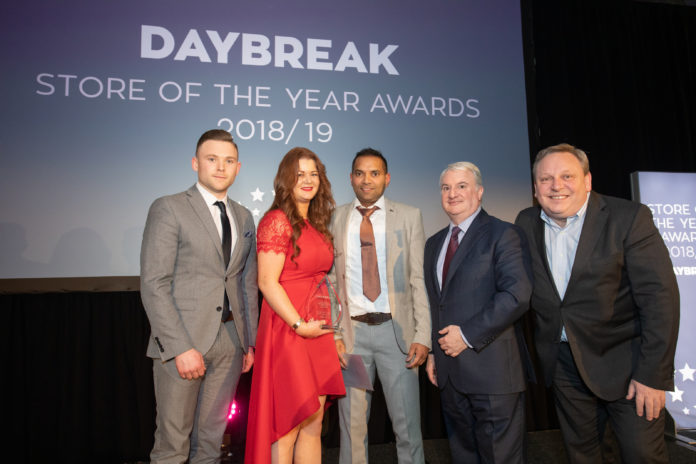 Daybreak Drumgoold was awarded 'Best Product Availability Award' at the annual Daybreak Store of the Year Awards, which took place Thursday 4th April. Hosted in the Knightsbrook Hotel, Co. Meath, the awards recognise retail excellence across Daybreak stores nationwide.
Daybreak is Ireland's fastest growing convenience group with over 220 stores nationwide. All stores are independently owned by local retailers ensuring that each store can respond to the everyday needs of their local community.
Fifteen retailers were shortlisted for the overall Daybreak Store of the Year Award, which focuses on four key areas – products & services, store environment, communications, and people. During the competition stores were assessed against rigorous criteria, including a series of mystery shopper surveys and audits on store standards.
As well as the coveted overall Store of the Year accolade, other awards on the night focused on key in-store categories and store layouts. The winners were:
Best Overall Store of The Year & Charity Merit Award: Daybreak Dungarvan
Best Forecourt Store of The Year & Health Champion Award: Daybreak Southlink
Best Neighbourhood Store of The Year: Daybreak Rolestown
Best High Convenience Store of The Year: Daybreak The Gandon Inn
Best Wine Award & Best Off-Licence Award: Daybreak Raven Terrace
Best Impulse Award: Daybreak Castlerea
Best Food to Go & Hot Beverage Award: Daybreak Cloonboo
Best Customer Service Award: Daybreak Tractamotors
Speaking at the Daybreak Store of the Year awards ceremony, Thomas Morrison, Head of Retail Sales, Musgrave Wholesale Partners, said:
"Huge Congratulations to Akash Deep Aggarwal and his hardworking team at Daybreak Drumgoold on winning 'Best Product Availability Award' at the Daybreak Store of the Year Awards. The Store of the year awards celebrate excellence in convenience retailing and highlight the great consumer experience provided across the Daybreak network. It was a tough competition this year with many worthy contenders and this win is a testament to the team's huge effort and commitment to providing a great service to their local community."